Florida State Road 777 joins Interstate 75 with U.S. 41 along 5.819 miles of River Road in Sarasota County. Previously unsigned County Road 777, maintenance of River Road was transferred to the Florida Department of Transportation in exchange for the western segments of SR 72 (Stickney Point Road) and SR 758 (Siesta Drive / Midnight Pass Road). The move in May 2018 precedes construction widening River Road from a rural two lane highway to a six lane, urban arterial.1
Estimated at $41 million, work on the expansion project is scheduled to begin in 2021, with the state covering $24.8 million of the costs.2 Sarasota County will cover widening River Road 1.6 miles north from U.S. 41 to West Villages Parkway. The state of Florida will build the remaining four miles northwest to Interstate 75. Future widening will expand River Road (CR 777) southward from U.S. 41 to Winchester Boulevard. Sarasota County already has the needed right-of-way, but design work remained incomplete as of January 2020.2

North
Center Road leads due west from River Road to Plantation, Venice Gardens U.S. 41 near the city of Venice.
10/04/20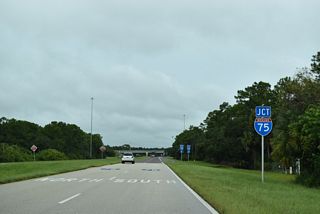 River Road expands to four lanes leading into the diamond interchange (Exit 191) with Interstate 75.
10/04/20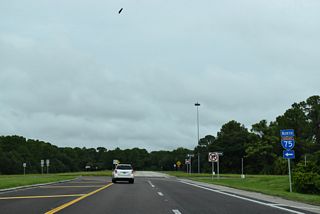 The state maintained portion of River Road extends to the end of pavement north of Interstate 75.
10/04/20

South
Sources:
"River Road improvements in south Sarasota County expected to be accelerated." Herald-Tribune (Sarasota, FL), December 19, 2018.
"County adds to River Road funding." West Villages Sun (Sarasota, FL), January 23, 2020.
Photo Credits:
10/04/20 by AARoads
Connect with:
Interstate 75
U.S. 41
Page Updated 10-05-2020.