State Road 998 was established in 2018 with the relinquishing of SR 997 from Krome Avenue south of Campbell Drive in Homestead. SR 998 connects the truncated end of SR 997 with U.S. 1 (Dixie Highway) along Campbell Drive. The route is 0.774 miles long.
Coupled with the $16.3 million Krome Ave Truck Bypass Project along SR 9336 (Palm Drive) and Davis Parkway, road work along SR 998 (Campbell Drive) rebuilds Campbell Drive with two 11-foot lanes per direction. Work also upgrades traffic lights, stormwater drainage and lighting. The truck bypass is intended to remove traffic from the Homestead Historic Downtown District along the former stretch of SR 997 on Krome Avenue. Construction started in March 2020 and runs until April 2021.

West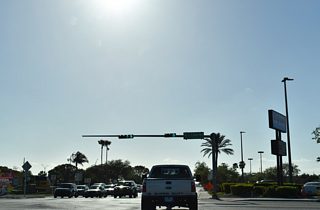 Campbell Drive becomes a part of SR 998 west from U.S. 1 (S Dixie Highway) by Harris Field Park.
03/21/20
Photo Credits:
03/21/20 by AARoads
Connect with:
U.S. 1
State Road 997 - Krome Avenue
Page Updated 03-23-2020.