State Route 111 travels 54.76 miles north from the state line near Havana, Florida to U.S. 319 Business at Moultrie in southwest Georgia. Branching northeast from U.S. 27, SR 111 runs 17.73 miles northeast to SR 93 (5th Street SE) in the city of Cairo. The two routes overlap north to U.S. 84 (38th Boulevard), and west along side U.S. 84 to N Broad Street. This alignment circumvents Downtown Cairo, which SR 93/111 previously served directly.
3.73 miles north from U.S. 84/SR 38 in Cairo, SR 93 and SR 111 part ways for Pelham and Meigs respectively. Continuing east from U.S. 19, SR 111 ties into SR 37 (Camilla Highway) just outside the town of Riverside. The northernmost 1.74 miles follows the West Bypass around the north side of Moultrie.

North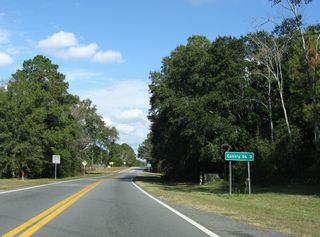 Darsey Calvary Road branches northeast from U.S. 27 and Concord Bainbridge Road just ahead of the Florida state line and northbound beginning of SR 111.
12/31/06

South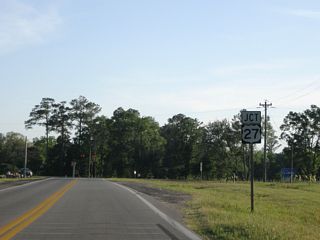 State Route 111 travels 17.73 miles southwest from SR 93 in the city of Cairo to the Florida state line just shy of U.S. 27.
05/02/09
Photo Credits:
12/31/06, 05/02/09 by AARoads
Connect with:
U.S. 19
U.S. 27
U.S. 84
Page Updated 06-15-2020.