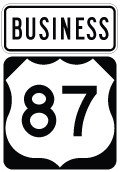 Serving the town of Wheatland, a town of over 3,500, Business Loop I-25 follows an alignment with several turns. Starting from Interstate 25 at Exit 78, Business Loop I-25, along with U.S. 87 Business, utilizes Mariposa Parkway east briefly to link with parallel 16th Street north along side the freeway. 16th Street extends the two routes north five and half blocks to South Street and Wyoming 312. There Wyoming 312 begins and heads west and south to Wyoming 34 while Business Loop I-25 turns east along South Street seven blocks to 9th Street.
Curving north onto 9th Street, Business Loop I-25 enters Downtown Wheatland and intersects Wyoming 316 (Gilchrist Street). Beyond the business district, 9th Street continues as the business route to Wyoming 320 (old U.S. 87) at Swanson Road. Business Loop I-25 and U.S. 87 Business curve northwest along Swanson Road for the return back to Interstate 25 at Exit 80.

Connect with:

Page Updated 05-27-2012.