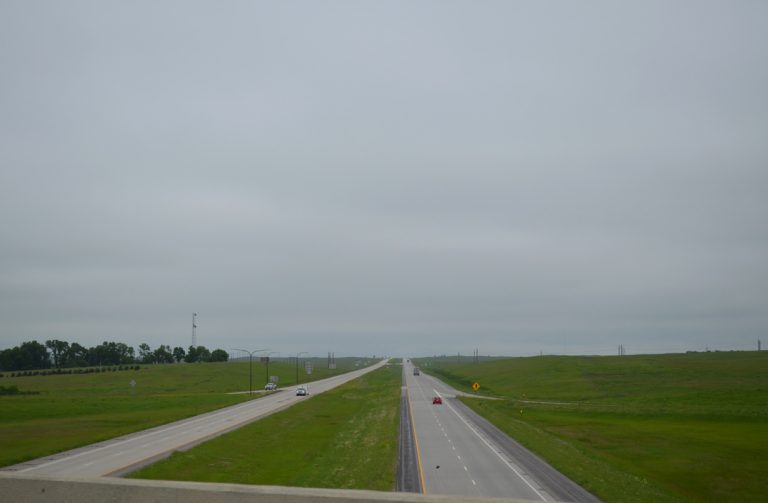 Interstate 29 travels 252.515 miles through eastern reaches of South Dakota between Sioux City, Iowa and North Dakota. The freeway replaced U.S. 77 from Iowa north to South Dakota 28 west of Toronto, and overlays the U.S. 81 corridor north of Watertown. The freeway expands to eight lanes in stretches through Sioux Falls.
Interstate 29 South Dakota Highway Guides
The first portion of I-29 completed in South Dakota was a section in Sioux Falls between Russell Street and 60th Street North in the late 1950s.1 This stretch doubled as South Dakota 38. Subsequent segments opened northward to South Dakota 35 by Lone Tree and south to Sioux City, Iowa by 1965. Completion of the route northward from SD-34 to U.S. 14 outside Brookings occurred by 1971. The final portion of I-29 in South Dakota constructed was the piece between Exit 224 / Peever and Exit 246 with U.S. 81 at New Effington.
When Interstate 29 was completed in 1983, South Dakota was the fifth state to complete its portion of the Interstate Highway System.2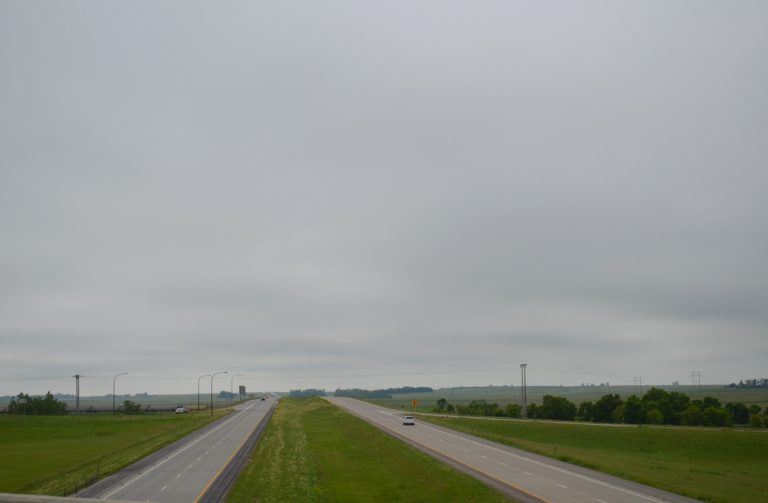 Interstate 29 Business Routes
Interstate 29 sees four business routes in South Dakota. Unsigned Business Spur 29P connects I-29 with North Sioux City. A state-maintained business loop follows northward from I-29 at the city of Elk Point. Sioux Falls sees a locally maintained Business Spur for I-29 along South Dakota 42.
The Brookings Business Spur for Interstate 29 is signed only from the freeway mainline at Exit 132. The route running west concurrently with U.S. 14 along 6th Street is unsigned otherwise.
| | |
| --- | --- |
| | scenes |
| | |
| --- | --- |
| | 41st Street west at the southbound on-ramp to Interstate 29. I-29 continues to I-229 and Tea on its exit of the Sioux Falls metro area. Photo taken 04/20/07. |
| | |
| --- | --- |
| | 258th Street west at its diamond interchange (Exit 86) with Interstate 29. The city of Crooks is a 1.9 mile drive away via County Road 130 west and 470th Avenue (County Road 137) north. Photo taken 04/20/07. |
Sources:
South Dakota Department of Transportation. (2016, June 29). Fun Fact: South Dakota was the fifth state in the nation to complete its portion of the Interstate Highway System. Starting in 1964 and averaging 50 miles constructed each year, 1-90 was finished in 1976 and 1-29 was completed in 1983 [Facebook update]. Retrieved from https://www.facebook.com/southdakotadot/photos/
a.1422933601251847.1073741830.1422660934612447/1816635195215017/?type=3.


Photo Credits:

04/20/07 by AARoads

Connect with:
Interstate 90
Interstate 229
U.S. 14
Highway 50

Page Updated 07-25-2016.