Interstate 37 is one of the three Interstates that never leave Texas. The road covers 143 miles, and only serves two major cities - Corpus Christi and San Antonio. Interstate 37 replaced SH 9 from Corpus Christi to Three Rivers, and supplanted US 281 between Three Rivers and San Antonio. Indirectly, IH-37 supplanted US 181.
Beginning in Corpus Christi where Waco street meets IH-37 / US 181, IH-37 immediately meets freeways for the Harbor Bridge (U.S. 181 & SH 35) north and SH 286 (Crosstown Expressway) south. The freeway proceeds west, paralleling Corpus Christi Bay and Leopard Street (former SH 9) to reach SH 358 (South Padre Island Drive). West from there, IH 37 continues by an array of oil refineries to eventually reach US 77.
Combining with US 77 across the Nueces River, Interstate 37 turns northwest and leaves the city for the coastal plains until reaching Mathis, an agricultural center. The freeway passes Lake Corpus Christi, a reservoir and recreational lake, before entering the scrubby, Live Oak-dotted South Texas Plains.
Crossing US 59 and future IH 69C, IH 37 skirts George West, seat of Live Oak County, and Three Rivers. Three Rivers, named for the confluence of the Atascosa, Frio and Nueces Rivers, is home to Choke Canyon Reservoir, constructed in the early 1980s, and an oil refinery. The small city is also noted for The Goodie Box, a craft cooperative. North of Three Rivers, US 281 merges with IH 37.
US 281 Alternate, which parallels IH-37, travels through the unincorporated communities of Whitsett and Campbellton. The next city is Pleasanton, which calls itself the Birthplace of the Cowboy. US 281 separates from IH 37 there, taking a course west of Interstate 37 to San Antonio.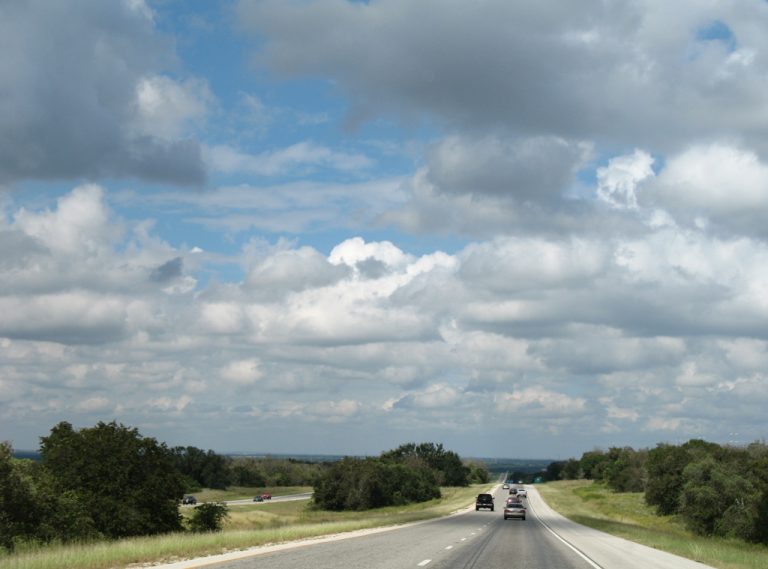 IH 37 passes Braunig Lake, a reservoir for San Antonio, and continues north into San Antonio. Meeting the city at Loop 410, IH 37 merges with US 281 again and turns northwest to pass Loop 13, Military Drive, and cross IH 10. IH 37 passes to the east of Downtown San Antonio, curving past Hemisfair Park and Hemisfair Arena, site of the 1968 Worlds Fair. Continuing by the Alamodome, Interstate 37 concludes 1.6 miles to the north at IH 35, with US 281 extending north along the McAllister Freeway.
There are no business loops for Interstate 37. Note that the US 181 / IH 37 interchange is not actually part of Interstate 37. The terminal milepost is actually located where IH 37 meets Waco Street, with the remaining mileage east to Shoreline Boulevard considered to be a part of US 181 by TxDOT.
Interstate 37 Texas Guides
During Hurricane evacuations, TxDOT can open a third northbound lane along IH 37 to aid the public. This was implemented during the lead up to Hurricane Harvey on August 24, 2017.
Construction Timeline
1958: Freeway proposed from Corpus Christi to San Antonio. Some objections are raised to the proposed route through Corpus Christi, but the freeway is not rerouted.
1959: IH-37 commissioned. No construction begins at this time.
1961: Ground broken on October 10 from Waco street to Peabody street. The 0.8 mile stretch of freeway lies between Antelope and Buffalo streets.
1962: First bridge opens on September 25, carrying Staples Street over IH-37. Construction begins on November 11 between Peabody street and Up River Road.
1963: Waco street to Peabody street section opens May 11. Peabody street to Nueces Bay Boulevard opens October 18.
1964: Nueces Bay Boulevard to Up River Road opens January 8.
1965: Up River Road to CCTA railroad opens in March.
1966: CCTA railroad to Corn Products Road opens.
1967: Corn Products Road to Rand Morgan Road opens in January.
1969: Freeway complete from Corpus Christi to SH 234, and Loop 1604 north to Florida Street in San Antonio.
1970: SH 234 to SH 359 in Mathis opened.
1971: Freeway completed from Corpus Christi to Swinney Switch (FM 534) by August. Florida Street north to IH-35 opened in San Antonio.
1973: Freeway complete from Corpus Christi to just south of US 59, and Loop 1604 to IH-35.
1976: Construction in progress from US 59 to Oakville. Construction begins from Oakville north to FM 536. Freeway complete from Corpus Christi to US 59.
1979: Campbellton to Pleasanton complete.
1980: Construction still in progress from FM 536 south to Pleasanton. Oakville south to Corpus Christi is open.
1981: The last uncompleted section, from Oakville north to US 281 at mile 72, opens in October.
1988: Construction begins on the IH-37/US 77 interchange on January 14 in Calallen.
1991: Construction completed on the IH-37/US 77 interchange in November.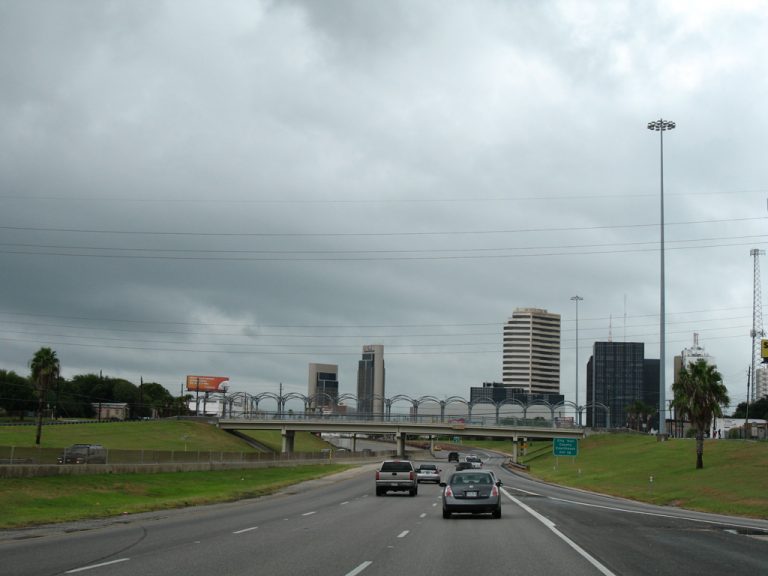 The $32 million project to build the Joe Fulton International Trade Corridor in Corpus Christi included a number of changes to Interstate 37. Split into two phases, the main focus of work was the $24 million new flyover linking the freeway southbound with the Joe Fulton Corridor leading north. The ramp opened following a ribbon cutting ceremony held on October 17, 2011. Additional work through early 2012 involved reversing the ramps at Carbon Plant and McKinzie Roads, expanding the McKinzie Road (FM 3386) overpass, adding turnarounds at FM 3386, building a new frontage road along the south side of IH 37, and realignment of the Violet Road off-ramp from northbound.1
| | |
| --- | --- |
| | scenes |
| | |
| --- | --- |
| | State named shield formerly posted at the northbound on-ramp for IH 37 & U.S. 281 on New Braunfels Avenue in San Antonio. 12/31/02 |
| | |
| --- | --- |
| | The west side frontage road for IH 37 through Edroy overlays former SH 9 and connects ramps at Exit 22. Low clearance overpasses carry both SH 234 and the Union Pacific Railroad above the service road. 07/11/05 |
| | |
| --- | --- |
| | Low clearance railroad overpasses are a common feature of South Texas state highways, as grade crossings were converted to underpasses. 07/11/05 |
Sources:
"Joe-Fulton Corridor officially opens." Nueces County Record Star, October 18, 2011.
Photo Credits:
12/31/02 by AARoads. 07/11/05 by Kevin Trinkle.
Connect with:
Interstate 10
Interstate 35
U.S. 77
U.S. 181
U.S. 281
State Highway 286
State Highway 358
Page Updated 08-30-2017.