Interstate 40 crosses nearly the width of North Carolina, joining the metropolitan areas of Asheville, the Piedmont Triad, Raleigh-Durham and Wilmington along a 420.21-mile course. Entering the state through Pigeon River Gorge, I-40 traverses the Great Smoky Mountains south to U.S. 276 near Lake Junaluska. The freeway turns east, combining with U.S. 74 from Clyde to Interstate 26 at Asheville. I-240 provides an urban loop linking I-40 with Downtown Asheville and the continuation of I-26 north to the Tri-Cities in northeastern Tennessee.
East from Asheville, I-40 continues through a valley between the Great Craggy and Swannanoa Mountains to Black Mountain. Gaining elevation from there, Interstate 40 crosses the Blue Ridge mountains through Swannanoa Gap, a fog prone stretch across Pisgah National Forest. Advancing across the North Carolina Piedmont, I-40 passes south of Marion and Morganton en route to Hickory.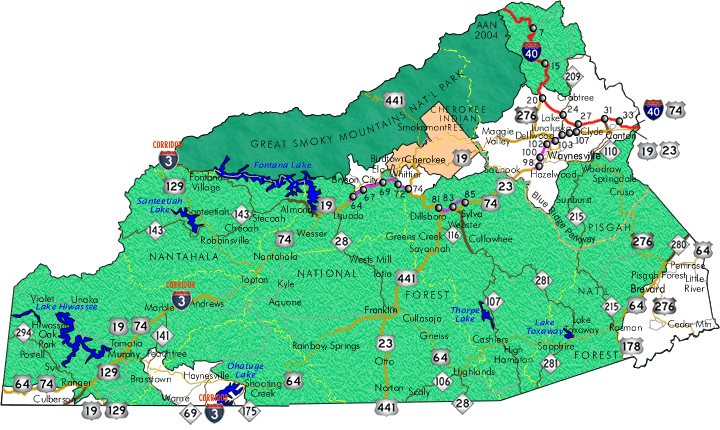 Interstate 77 travels north from Charlotte to cross paths with I-40 outside of Statesville. Multi-year construction at I-40/77 commenced in 2012. Completed in July 2017, the first section of the $89.07 million project widened I-40 to six lanes from Old Mocksville Road to a point east of NC 115, rebuilt the exchange with U.S. 21 into a diverging diamond interchange (DDI) and replaced the loop from I-77 north to I-40 west with a directional ramp. Delayed due to lack of funding, the remainder of work to complete the partial turbine interchange at I-40/77 finally got underway in 2019. Work will be completed at the exchange by late 2022.
Trending northward from Statesville, Interstate 40 follows a rural course toward the Piedmont Triad region. Once at Winston-Salem, I-40 shifts onto a bypass south of the city center, with the former route (Business Loop I-40 until 2020) carrying U.S. 421 (Salem Parkway). The commuter freeway connects Winston-Salem with Piedmont Triad International Airport (GSO) and central Greensboro.
A 30.61-mile overlap with Interstate 85 takes both routes east from Greensboro to Burlington, Mebane and Hillsborough. The two separate ahead of Durham, with I-85 bypassing the city to the north and I-40 turning southeast toward Raleigh. Through Raleigh, I-40 encircles the south side of the capital city. This stretch was formerly co-signed with I-440, which follows the Cliff Benson Beltline on the northern arc around the city.
The remainder of I-40 travels southward, first splitting with U.S. 70 (Future I-42) near Clayton and next meeting Interstate 95 near Benson. Beyond I-95, Interstate 40 navigates through agricultural and timberland, staying rural by the communities of Warsaw, Wallace and Burgaw. The cross-country freeway concludes at U.S. 117 just outside of Wilmington.
Interstate 40 North Carolina Guides
Business Routes
Interstate 40 represents one of the original four interstates approved for the state of North Carolina in 1956. The first section, beginning with the 1957-opened stretch between U.S. 421 in Greensboro and North Carolina 66 at Kernersville, traveled 219 miles east from Tennessee to the merge with Interstate 85 in Greensboro. The pre-existing freeway of U.S. 421 from Winston-Salem eastward, built between 1949-50, was included in Interstate 40's alignment. The 1956 Federal-Aid Highway Act authorized construction on Interstate 40 first through Pigeon River Gorge in Haywood County in 1958. Work followed on a 34.3-mile section of freeway through Burke and Catawba Counties in 1959.
By 1966, 119.4 miles of Interstate 40 were open to traffic, followed by the 1968 opening of the 22-mile Pigeon River Gorge alignment leading west to Tennessee, the most expensive project in North Carolina history at the time. These completions led to the 1968 request to the Bureau of Public Roads for additional Interstate mileage within North Carolina. The approved request extended Interstate 40 from Greensboro east to Raleigh and Interstate 95. Work followed soon thereafter with a section of new freeway opening in the Raleigh area by December 1971.
A third extension of Interstate 40 followed in April 1978 with an approval for a new freeway from Interstate 95 near Raleigh to Wilmington. Interstate 40 would not be completed east to I-95 until 1989 however, but opening of the entire alignment to Wilmington would follow shortly on June 29, 1990.
When the Greensboro bypass (Painter Boulevard) was completed on the southwest side of the city, Interstate 40 was relocated from its through route onto the bypass. Also established on February 21, 2008 was Business Loop I-40 along the former alignment of I-40 across Greensboro. I-40 was subsequently returned to its original alignment in September 2008. Business Loop I-40 was eliminated and U.S. 421 was also realigned to accompany I-85 west and I-73 north.