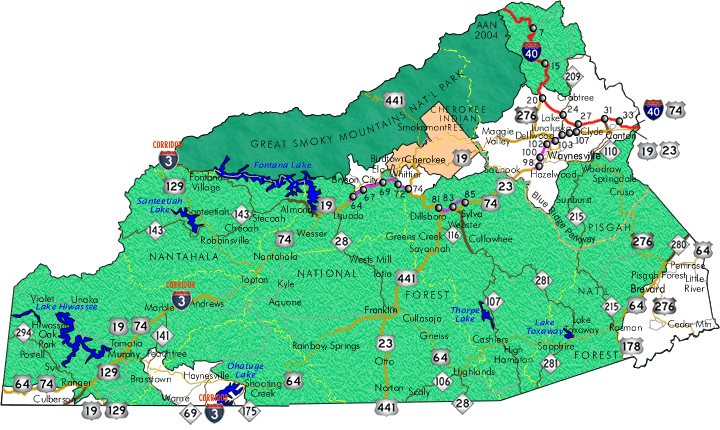 Interstate 40 crosses nearly the width of North Carolina, joining the metropolitan areas of Asheville, the Piedmont Triad, Raleigh-Durham and Wilmington along a 420.21-mile course. Entering the state through Pigeon River Gorge, I-40 traverses the Great Smoky Mountains south to U.S. 276 near Lake Junaluska. The freeway turns east, combining with U.S. 74 from Clyde to Interstate 26 at Asheville. I-240 provides an urban loop linking I-40 with Downtown Asheville and the continuation of I-26 north to the Tri-Cities in northeastern Tennessee.
East from Asheville, I-40 continues through a valley between the Great Craggy and Swannanoa Mountains to Black Mountain. Gaining elevation from there, Interstate 40 crosses the Blue Ridge mountains through Swannanoa Gap, a fog prone stretch across Pisgah National Forest. Advancing across the North Carolina Piedmont, I-40 passes south of Marion and Morganton en route to Hickory.
Interstate 77 travels north from Charlotte to cross paths with Interstate 40 outside of Statesville. Multi-year construction at I-40/77 commenced in 2012. Completed in July 2017, the first section of the $89.07 million project widened I-40 to six lanes from Old Mocksville Road to a point east of N.C. 115, rebuilt the exchange with U.S. 21 into a diverging diamond interchange (DDI) and replaced the loop from I-77 north to I-40 west with a directional ramp. The remainder of work to complete the multi-level interchange at I-40/77 was delayed due to lack of funding.
Trending northward from Statesville, Interstate 40 follows a rural course toward the Piedmont Triad. Once at Winston-Salem, I-40 shifts onto a bypass south of the city center, with the former route carrying U.S. 421 (Salem Parkway) and Business Loop I-40 (until 2020). The commuter freeway connects Winston-Salem with Piedmont Triad International Airport (GSO) and central Greensboro.
A 30.6-mile overlap with Interstate 85 takes both routes east from Greensboro to Burlington, Mebane and Hillsborough. The two separate ahead of Durham, with I-85 bypassing the city to the north and I-40 turning southeast toward Raleigh. Through Raleigh, I-40 encircles the south side of the capital city. This stretch was formerly co-signed with I-440, which follows the Cliff Benson Beltline on the northern arc around the city.
The remainder of I-40 travels southward, first splitting with U.S. 70 (Future I-42) near Clayton and next meeting Interstate 95 near Benson. Beyond I-95, Interstate 40 navigates through agricultural and timberland, staying rural by the communities of Warsaw, Wallace and Burgaw. The cross-country freeway concludes at U.S. 117 just outside of Wilmington.
Interstate 40 North Carolina Highway Guides
Interstate 40 represents one of the original four interstates approved for the state of North Carolina in 1956. The first section, beginning with the 1957-opened stretch between U.S. 421 in Greensboro and North Carolina 66 at Kernersville, traveled 219 miles east from Tennessee to the merge with Interstate 85 in Greensboro. The pre-existing freeway of U.S. 421 from Winston-Salem eastward, built between 1949-50, was included in Interstate 40's alignment. The 1956 Federal-Aid Highway Act authorized construction on Interstate 40 first through Pigeon River Gorge in Haywood County in 1958. Work followed on a 34.3-mile section of freeway through Burke and Catawba Counties in 1959.
By 1966, 119.4 miles of Interstate 40 were open to traffic, followed by the 1968 opening of the 22-mile Pigeon River Gorge alignment leading west to Tennessee, the most expensive project in North Carolina history at the time. These completions led to the 1968 request to the Bureau of Public Roads for additional Interstate mileage within North Carolina. The approved request extended Interstate 40 from Greensboro east to Raleigh and Interstate 95. Work followed soon thereafter with a section of new freeway opening in the Raleigh area by December 1971.
A third extension of Interstate 40 followed in April 1978 with an approval for a new freeway from Interstate 95 near Raleigh to Wilmington. Interstate 40 would not be completed east to Interstate 95 until 1989 however, but opening of the entire alignment to Wilmington would follow shortly on June 29, 1990.
---
| | |
| --- | --- |
| | Wiggins Road links U.S. 19 & 23 (Smokey Park Highway) with adjacent Interstate 40 via a diamond interchange (Exit 37) midway between Canton and Candler Heights. Photo taken 12/31/13. |
| | |
| --- | --- |
| | Gashes Creek Road connects U.S. 74A and the east end of Interstate 240 with the eastbound on-ramp for I-40. Photo taken 12/31/13. |
| | |
| --- | --- |
| | Porter Cove Road lowers from Swannanoa Mountains to meet Interstate 40 at a diamond interchange in east Asheville. The road connects the freeway (Exit 55) with adjacent U.S. 70. Photo taken 05/31/07. |
| | |
| --- | --- |
| | Interstate 40 continues west from Porter Cove Road to split with Interstate 240 for Asheville. Porter Cove Road north passes over a Norfolk Southern Railroad line before ending at U.S. 70 (Tunnel Road) near Jones Mountain. Photo taken 05/31/07. |
| | |
| --- | --- |
| | An Interstate 40 trailblazer directs drivers along Union Cross Road (SR 2643) south onto the eastbound freeway for Greensboro. A $30.3-million project expands 4.2 miles of SR 2643 from Sedge Garden Road to south of I-742 . Work started on April 16, 2012 and ran through November 15, 2015. Photo taken 08/06/13. |
| | |
| --- | --- |
| | Included in the widening of Union Cross Road at Interstate 40 was the reconstruction of Exit 201 into a diverging diamond (DDI). Photo taken 08/06/13. |
| | |
| --- | --- |
| | Regional Road heads south from the Friendship area of west Greensboro to Interstate 40 and NC 68 at Albert Pick Road. Albert Pick Road constitutes a south side frontage road for I-40, joining Regional Road with the parclo interchange at NC 68. Photo taken 07/24/04. |
| | |
| --- | --- |
| | Albert Pick Road westbound at NC 68 and the eastbound on-ramp to Interstate 40. NC 68 joins the High Point area with Piedmont Triad International Airport (PTI). Photo taken 07/24/04. |
| | |
| --- | --- |
| | Holly Shelter Road westbound at the eastbound on-ramp to Interstate 40. A folded diamond interchange joins the two roadways east of Castle Hayne at Exit 414. Photo taken 11/11/06. |
| | |
| --- | --- |
| | South Elm-Eugene Street at the diamond interchange with Interstate 40 & U.S. 29-70-220. Elm and Eugene Street travel independent paths southward from Downtown Greensboro but merge before Sussmans Street. The combined name applies to the arterial leading southward to Randleman Road. Photo taken 07/24/04. |
| | |
| --- | --- |
| | A rare state-named shield for Interstate 40 along South Elm-Eugene Street northbound at Exit 220. Photo taken 07/24/04. |
Sources:
Interstate 40 Fact Sheet, http://www.ncdot.org/public/50thanniv/ncinterstates/download/factsI40.pdf NCDOT.
http://www.ncdot.gov/projects/UnionCrossRoad/
Photo Credits:
07/24/04 by AARoads.
11/11/06 by AARoads.
05/31/07 by AARoads and Carter Buchanan.
08/06/13 by AARoads.
12/31/13 by AARoads and Carter Buchanan.
Connect with:
Interstate 26
Interstate 73
Interstate 74
Interstate 77
Interstate 85
Interstate 95
Interstate 140
Interstate 240
Interstate 440 / Cliff Benson Beltline
Interstate 540 - Northern Wake Expressway
Interstate 840 - Greensboro Urban Loop
U.S. 321
Page Updated 09-10-2018.