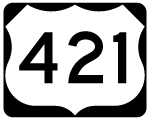 As of September 2008, there is a lone Business Loop I-40 in North Carolina. Designated in 1992, the first business loop was created when the Interstate 40 mainline relocated to bypass Winston-Salem onto a new southerly bypass. Construction at Greensboro resulted in a new alignment of Interstate 40 around the city on February 21, 2008, resulting in the redesignating of the old freeway as an extension of the Winston-Salem business route, or the second business loop. This designation lasted until mid-September 2008, when officials relocated I-40 back onto its original in-city alignment due to confusion by area motorists and funding changes due to the loss of Interstate status.
The $99.2 million Business 40 Project reconstructs a 1.2 mile section of the Business Loop I-40/U.S. 421 freeway through Downtown Winston-Salem. Construction addresses increasing traffic volumes and substandard design of the 1958-opened freeway. Road work modernizes all interchange ramps, replaces 11 bridges, widens the freeway to include full shoulders, and adds a multi-use path between Lockland Avenue and Liberty Street. Construction running through 2020 broke ground in fall 2017. Upon completion, Business Loop I-40 will be retired, and the entire freeway across Winston-Salem will be renamed Salem Parkway and redesignated solely as U.S. 421.1
A third Business Loop for Interstate 40 was assigned to what became Interstate 440 (Cliff Benson Beltway) around the city of Raleigh. This route was decommissioned with the establishment of I-440 in 1991.