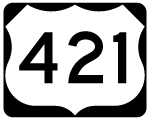 Business Loop I-40 through Winston-Salem followed the original alignment of Interstate 40 across the city. The freeway opened in stages between 1957 and 1962.3 The substandard design of the urban expressway resulted in a new alignment built for Interstate 40 to the south. Opened in 1992, the realignment of I-40 coincided with the establishment of Business 40.1 Overlapping with U.S. 421, the 18 mile route of the Business 40 freeway links Downtown Winston-Salem to the west with Kernersville to the east.
Costing $99.2 million, the Business 40 Project reconstructed a 1.2 mile section of the freeway along Business Loop I-40/U.S. 421 through Downtown Winston-Salem. Road work addressed increasing traffic volumes and substandard design of the 1958-opened freeway. Construction modernized all interchange ramps, replaced 11 bridges, widened the freeway with the addition of full shoulders, and added a multi-use path between Lockland Avenue and Liberty Street. Work broke ground in Fall 2017.3
The North Carolina Department of Transportation (NCDOT) closed Business 40 in both directions for reconstruction from Peters Creek Parkway to U.S. 52/NC 8 on November 17, 2018. The freeway reopened from Main Street to U.S. 52 on August 30, 2019. The remainder reopened by 6 AM on the morning of February 2, 2020.3
With the reopening of Business 40 at Downtown Winston-Salem, the freeway was renamed Salem Parkway and the Business Loop I-40 designated retired. U.S. 421 became the primary route, with exits renumbered based upon U.S. 421 mileposts. U.S. 421 uses north and south cardinal directions, despite the east to west orientation from Greensboro to Boone.
A second Business Loop for I-40 was previously designated in the city of Greensboro. Completion of the southwestern leg of the Greensboro Urban Loop on February 21, 2008 resulted in realigning I-40 around the city of Greensboro instead of through it. Business 40 was posted along what was Interstate 40 between I-73/840 to the west near Piedmont Triad International Airport (PTI) and I-85 at I-785/840 in east Greensboro. Exits were renumbered using a system that counted up from the east end of Business 40 from Kernersville.
Business Loop I-40 at Greensboro was decommissioned in mid-September 2008, when the NCDOT realigned I-40 off the Greensboro Urban Loop and back onto its original alignment across the city. Exit numbers were subsequently renumbered, which included those along the shared alignment with Business Loop I-85, from southwest of Downtown to I-40/85, which were based upon Business 85's mileposts.
A third Business Loop for Interstate 40 was assigned to what became Interstate 440 (Cliff Benson Beltway) around the city of Raleigh. This route was decommissioned with the establishment of I-440 in 1991.