Interstate 55 enters the southwestern corner of Tennessee along a 12.28 mile course in the city of Memphis. The freeway heads north from Southaven, Mississippi alongside Interstate 69. I-55/69 overlap north through the Whitehaven area in Memphis to I-240, though Interstate 69 is not marked.
I-55 arcs northwest from I-240 and encircles the South Memphis community to the exchange with U.S. 51-64-70-79 (E.H. Crump Boulevard) and Riverside Drive. I-55 makes a TOTSO (turn off to stay on) movement in both directions at the cloverleaf interchange with Crump Boulevard. Plans addressing the substandard design outlined realigning the I-55 roadways onto a sweeping curve and adding separate wye interchanges tieing into a roundabout with Crump Boulevard and Riverside Drive. The Federal Highway Administration (FHWA) approved a Record of Decision (ROD) for the Selected Alternative in January 2012. Work on the project may commence in Winter 2021.
The Memphis-Arkansas Bridge takes Interstate 55 and U.S. 61-64-70-79 across the Mississippi River. Completed in 1949, the narrow cantilevered through truss bridge accommodates just four lanes of traffic with no shoulders.
Interstate 55 Tennessee Guides

scenes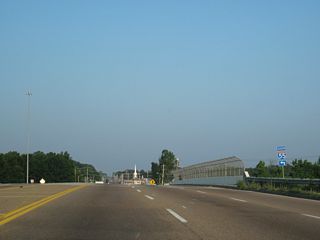 SR 175 (Shelby Drive) passes south of Memphis International Airport (MEM) ahead of a six-ramp parclo interchange (Exit 2) with Interstate 55.
06/02/10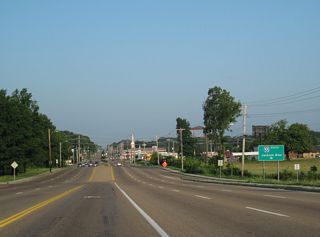 SR 175 (Shelby Drive) runs across the south side of Memphis along a 25.60 mile course from U.S. 72 at Collierville to I-55 at Whitehaven and U.S. 61 at Westwood.
06/02/10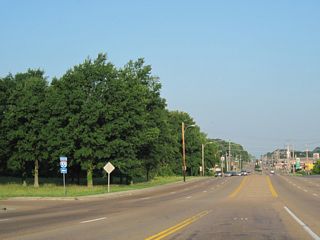 Interstate 55 heads 1.80 miles south from SR 175 (Shelby Drive) to the Mississippi state line where I-69 appears.
06/02/10
Photo Credits:
06/02/10 by AARoads
Connect with:
Interstate 240
Page Updated 09-03-2020.