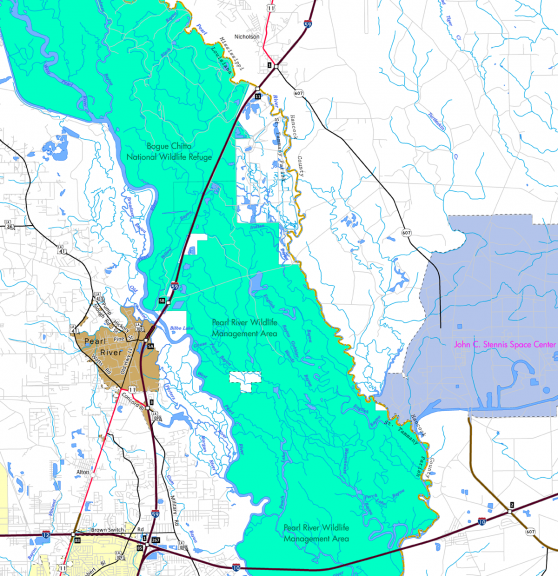 Interstate 59 in Louisiana was completed in conjunction with Interstate 10 through Slidell by 1966. The crossing over the Pearl River into Hancock County, Mississippi was the first to be constructed in 1958. Reconstruction of the freeway occurred between 1987 and 1989 and the bridges across the West Pearl River were replaced between 1996 and 1997.
Interstate 59 Highway Guides
---
Faded Interstate 59 trailblazers that were posted at the then Louisiana 41 Spur (now Louisiana 3081) entrance to its folded diamond interchange with I-59. A frontage road loops north to the West Pearl River, following both sides of I-59 at Exit 5A.
These shields were replaced with a guide sign for New Orleans. Photo taken 06/15/01.
| | |
| --- | --- |
| | Old U.S. 11 forms a portion of the service roads at Exit 5B of Interstate 59 on the north side of Pearl River. This view looks at the east service road, south of the Exit 5B off-ramp. The former US 11, no longer open to the public, passes through Pearl River Wildlife Management Area eastward to the Pearl River. Photo taken 04/20/12. |
2 photos

2 photos

Old US 11 loops under the Interstate 59 bridges across the West Pearl River before emerging along the southbound side ahead of the on-ramp to Slidell and New Orleans. Photos taken 04/20/12.
| | |
| --- | --- |
| | The Pearl River Turnaround consists of a folded diamond interchange (Exit 11) along the west banks of the Pearl River. The exit serves a nearby quarry via Atlas Road and Bogue Chitto National Wildlife Refuge via Honey Island Swamp Road to the west. Photo taken 06/15/01. |
| | |
| --- | --- |
| | A trailblazer for Interstate 59 south formerly posted along the northbound side frontage road after Atlas Road at the Pearl River Turnaround. This was the only shield of I-59 posted at Exit 11 at this time. Photo taken 06/15/01. |
Photo Credits:
06/15/01, 04/20/12 by AARoads
Connect with:
Interstate 10
U.S. 11
Page Updated 09-24-2012.