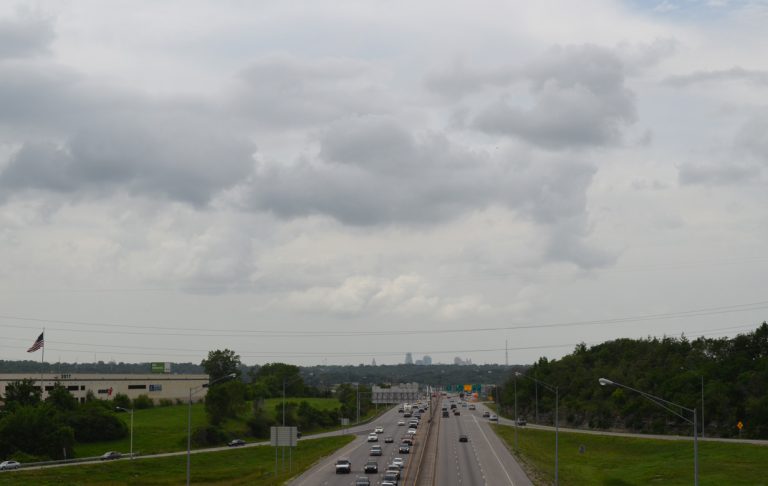 Interstate 70 stretches across the width of Missouri, joining the metropolitan areas of Kansas City with St. Louis. The freeway replaced U.S. 40 throughout much of the 250 mile route across the Show Me State. Despite long rural stretches, traffic is heavy on the freeway with I-70 representing a major trucking corridor for the Midwestern states. The east end was relocated in 2014, shortening the route by 1.50 miles as it bypasses the Mississippi Riverfront in St. Louis.
Interstate 70 Missouri Guides
What is touted as the first stretch of Interstate Highway to be built in the United States, a 2.6-mile stretch of Interstate 70 in St. Charles was started on August 13, 1956. This segment tied into 20.5-miles of Interstate 70 opened between St. Charles to downtown St. Louis in 1961.1
The interchange between Interstates 70 and 270 was upgraded in the early 1980s. Rest areas near Mineola were closed May 31, 2011 as the well that supplied the facility with water was capped. The areas remain available for truckers and overnight parking.4
Exit 228 with Missouri 94 (1st Capitol Drive) at St. Charles was upgraded from a diamond interchange into a single point urban interchange (SPUI) over the course of seven years. The $27-million project was vastly completed by late April 2008 and included the replacing of two two-lane overpasses of MO 94 with a ten-lane overpass.2
Following Mark McGwire's 70-home run season for the St. Louis Cardinals, the six-mile section of Interstate 70 within the city of St. Louis was named the Mark Mc Gwire Highway. Established on June 10, 1999, Mark Mc Gwire Highway was eventually dropped from I-70, following the steroid scandal in which he admitted to using performance enhancing drugs during his playing career.10 The Missouri Legislature restored the name Mark Twain Highway, after the famed author, in May 2010.11
I-70 Reversible Lanes - St. Louis
The reversible lanes, now known as the Express Lanes, comprise a two-lane roadway between the general travel lanes along Interstate 70 between Broadway and Union Boulevard in the city of St. Louis. Constructed in the early 1960s, the lanes were designed to carry inbound traffic during the morning peak hours and outbound traffic during the evening peak hours.5 They provide no outlet for local traffic, bypassing all mainline exits between their ends.
A concept to remove the reversible lanes was studied by the state in the mid-1990s. However it was determined unless the freeway could be expanded to five lanes per direction (deemed cost prohibitive due to right of way needed), that retaining the reversible lanes was a better alternative. This preceded the $150-million reconstruction of Interstate 70 through St. Louis.7 The reversible lanes were closed on August 3, 1998 in a project expected to run through 2000 (but was delayed to 20037). This work involved the replacement of six bridges carrying I-70 traffic: Branch and Angelica streets, East Grand Avenue, Prairie Avenue, Riverview Drive and over a railroad line. Additionally the Buchanan Street underpass was eliminated (by spring 1999) and I-70 elevated on fill. Following the completion of the bridge project, the reversible lanes were restriped to three lanes so crews could work on the bridge sections between the main roadways.6
Reopening of the reversible lanes for Interstate 70 occurred on August 4, 2003. As part of the project, a new westbound merge from the reversible lanes beyond Union Boulevard was added and new gates implemented to prevent wrong-way drivers.7
A second closure effected the reversible lanes from September 13, 2005 to the end of that month so that MoDOT could repair pavement and conduct resurfacing.8 Closure again in December 2011 led to a reopening of the now-Express Lanes with eastbound (inbound) traffic only. This pattern remained in effect to the new Mississippi River Bridge opening, when MoDOT was to reconsider using the lanes again for outbound traffic.5
Stan Musial Veterans Memorial Bridge
With origins in 2001, a new 1,500-foot long cable-stayed bridge spans the Mississippi River one mile north of the Martin Luther King Bridge between St. Louis and Brooklyn, Illinois. The bridge carries a realignment of Interstate 70 northwest from the interchange where I-64 combines with I-55 (Tri-Level Interchange) at East St. Louis to the freeway (old I-70 / new I-44) leading north from Downtown St. Louis and south of Tyler Street.
I-70 vacated its alignment across the Poplar Street Bridge (PSB) and the below-grade freeway along side Memorial Drive, North 3rd Street and Broadway through Downtown St. Louis. Interstate 44 was extended northward from the PSB in place of I-70.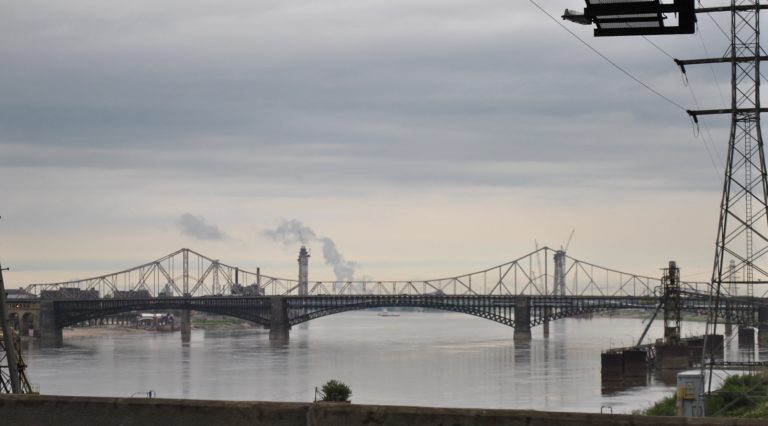 The bridge project received a formal name, the Stan Musial Veterans Memorial Bridge, on July 12, 2013 per legislation signed by President Barack Obama. The name is a compromise between Missouri lawmakers wanting to honor famed St. Louis Cardinals player Stan Musial and Illinois lawmakers desire to have the span honor military veterans.9
The Stan Musial Veterans Memorial Bridge ties into the original I-70 freeway opposite an extension of Tucker Boulevard. Tucker Boulevard was realigned to meet the bridge end as a gateway into Downtown from the north, with a new eastbound ramp from Interstate 70 to the boulevard opened on September 26, 2013. East of the Mississippi River at Fairmont City, a new interchange connects I-70 with Illinois 3 (St. Clair Avenue) via 1st Street.
Construction on the Stan Musial Veterans Memorial Bridge commenced in late 2009 with a formal ground breaking taking place on April 19, 2010. Costing $667-million, the project was completed with the opening of the bridge on February 9, 2014. The span carries four overall lanes and includes the capacity to be restriped for six lanes.
Blanchette Bridge
Another major bridge project completed along Interstate 70 involved the Blanchette Bridge across the Missouri River. Started in November 4, 2012 at a cost of $64-million, the rehabilitation project closed the westbound span and shifted all traffic onto the eastbound bridge with a reduction to six overall lanes. This allowed crews to demolish a portion of the 1958-built bridge so it could be rebuilt. Included in the work was the replacement of the truss superstructure, redecking of the span, and the elevating of the easternmost portion of the bridge on embankment.3 The westbound bridge reopened to traffic on August 24, 2013, over two months ahead of schedule. Crews continued with final work under the bridge to the end of 2013.
| | |
| --- | --- |
| | scenes |
| | |
| --- | --- |
| | U.S. 40 rejoins Interstate 70 from 31st Street at South Blue Valley in Kansas City, Missouri. A parclo B2 interchange joins the two just west of the Blue River. Photo taken 11/03/16. |
2 photos

2 photos

Woods Chapel Road north at the diverging diamond interchange with Interstate 70 in Blue Springs. The exchange was converted to a DDI in 2013. Photos taken 11/03/16.
| | |
| --- | --- |
| | Church Street leads south from Main Street in Wentzville to meet Interstate 70 & U.S. 40 at a diamond interchange. Highway Z commences a 7.33-mile trek southward to Highway D at New Melle here. Photo taken 04/13/13. |
| | |
| --- | --- |
| | Interstate 70 & U.S. 40 east proceed a short distance from Highway Z (Church Street) to split at the eastbound beginning of Interstate 64 and the Avenue of the Saints corridor (U.S. 61). Photo taken 04/13/13. |
| | |
| --- | --- |
| | Lake St. Louis Boulevard links Old US Highway 40 and Guthrie Road with Interstate 70 on the west side of O'Fallon. Photo taken 05/04/12. |
| | |
| --- | --- |
| | A loop ramp joins Missouri 180 (St. Charles Rock Road) with Interstate 70 east at Bridgeton. Photo taken 05/03/12. |
| | |
| --- | --- |
| | Missouri 180 reassurance marker posted after I-70. The commercial arterials heads southeast to a diamond interchange with U.S. 67 (Lindbergh Boulevard) by the former Northwest Plaza mall. Photo taken 05/03/12. |
| | |
| --- | --- |
| | Missouri 180 (St. Charles Road) west at the parclo b4 interchange with Interstate 70 at Bridgeton. Photo taken 05/03/12. |
| | |
| --- | --- |
| | Interstate 70 leads west to next meet Interstate 270 while MO 180 meets I-270 at its western terminus. Photo taken 05/03/12. |
| | |
| --- | --- |
| | Missouri 115 commences a 10.25 mile route west from St. Louis to Woodson Terrace at the Salisbury Street interchange with I-70 at the Hyde Park neighborhood. Photo taken 05/07/18. |
| | |
| --- | --- |
| | |
| | Exit 248A not only connects I-70 west with MO 115 (Salisbury Street) west, but also McKinley Street east to the McKinley Bridge and IL 3 at Venice. Photo taken 05/07/18. |
| | |
| --- | --- |
| | MO 115 crosses I-70 between North 9th and 11th Streets. The state highway follows Salisbury Street 0.8 miles to Natural Bridge Avenue west. Photo taken 05/07/18. |
| | |
| --- | --- |
| | Missouri 115 east concludes at the diamond interchange joining I-70 with Salisbury Street via 11th Street south and 9th Street north. Photo taken 05/07/18. |
Sources:
"TWO-MILE STRETCH IN ST. CHARLES PAVED WAY FOR AMERICA'S INTERSTATE SYSTEM - HIGHWAYS SHORTENED DRIVES BUT WEAKENED CITIES." St. Louis Post-Dispatch, December 14, 2003.
"After 7 years, new interchange at I-70 and Hwy. 94 is finished." St. Louis Post-Dispatch April 25, 2008.
"Traffic squeeze play - Blanchette Bridge - Combined spans will be reduced to 6 lanes from 10 for westbound work." St. Louis Post-Dispatch October 29, 20128.
Changeable speed limits on I-270 to be 'advisory' - TRANSPORTATION - ALONG FOR THE RIDE." St. Louis Post-Dispatch, June 12, 2011.
"I-70 reversibles will run just one way for now." St. Louis Post-Dispatch, December 25, 2011.
"BRIDGE WORK ON INTERSTATE 70 WILL BRING MORE CONGESTION - REVERSIBLE LANES WILL BE SHUT DOWN FOR BRIDGE REPAIRS - WORK WILL LAST UNTIL 2000." St. Louis Post-Dispatch, July 20, 1998.
"REVERSIBLE LANES REOPEN AMID OLD CONTROVERSY." St. Louis Post-Dispatch, August 4, 2003.
"Reversible I-70 lanes will close for repairs." St. Louis Post-Dispatch, September 13, 2005.
"Obama Approves "Stan Musial Veterans Memorial Bridge"." KMOX, July 12, 2013.
Mark McGwire, Wikipedia.org.
"McGwire sign may be on last leg - Bill stripping ex-slugger's name from I-70 awaits Nixon's OK. - GOVERNMENT." St. Louis Post-Dispatch, May 14, 2010.
Photo Credits:
05/03/12, 05/04/12, 04/13/13, 11/03/16, 05/07/18 by AARoads
Connect with:
Interstate 29
Interstate 35
Interstate 44
Interstate 55
Interstate 64
Interstate 170
Interstate 270
Interstate 435
Interstate 470
Route 370
Page Updated 02-21-2020.