Interstate 70 originates in the foothills of central Utah near historic Cove Fort, then proceeds east over the Pahvant Range into Sevier Valley. Meeting U.S. 89, Interstate 70 travels northeast past Richfield and Salina, then curves east again (along with U.S. 50) through Fishlake National Forest and the San Rafael Reef en route to Green River. U.S. 6 and U.S. 191 merge with the freeway; U.S. 191 splits south to Moab, while U.S. 6 and U.S. 50 proceed east along with Interstate 70 toward the Utah-Colorado State Line. Near Cisco, the Colorado River curves east to follow Interstate 70. The freeway departs the Beehive State along with U.S. 6-50 en route to Grand Junction, Colorado. From there, Interstate 70 travels east across Colorado, Kansas, Missouri, Illinois, Indiana, Ohio, Pennsylvania, and Maryland, ending near Interstate 695 at a park and ride in Baltimore, Maryland.
Interstate 70 Utah Guides
The first section of Interstate 70 built in Utah was the 12.2 mile link between Gooseberry Junction and Spring Canyon, east of Salina. Construction also underway in 1969 included 85.4 miles of freeway from San Rafael Swell east to Green River and toward the Colorado state line.1 Federal funding issues through the 1970s stalled work, resulting in a $78 million shortfall to complete the route.2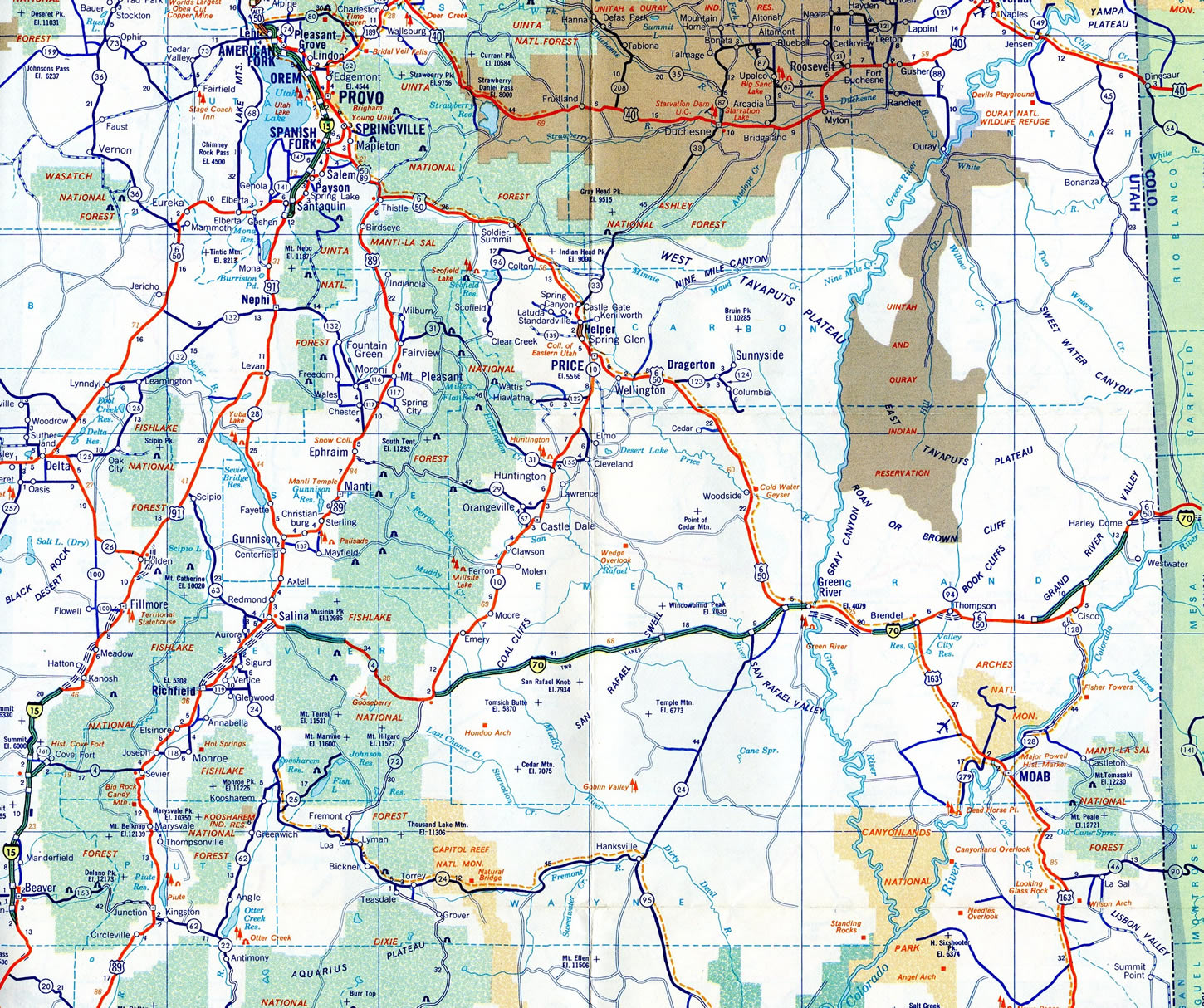 Bids for the last major portion of Interstate 70 to be built in Utah took place on September 23, 1986. Construction on the $11.8 million nine mile section between north Richfield (Exit 40) and Sigurd (Exit 48) coincided with work to build the $1.2 million north Richfield access road. This bid preceded a separate bid on the three mile segment of I-70 between the south access road and Exit 40. Ongoing work at the time included three other sections through Sevier Valley and a section in Clear Creek Canyon. U.S. 89 through Sevier County was designated as Temporary I-70 prior to the freeway opening.3
The remaining Super Two segments of Interstate 70 were expanded to four lanes through the 1980s. Completion of the route occurred on September 28, 1990, when the second Eagle Canyon bridge was dedicated. The original Eagle Canyon Bridge opened to traffic in 1965. It now carries eastbound traffic. Supported by a 428 foot arch, the westbound bridge spans 518 feet at a height of 205 feet. The new bridge capped off $183.5 million in construction that started with planning in 1959 for I-70 across San Rafael Swell.2
| | |
| --- | --- |
| | scenes |
| | |
| --- | --- |
| | Snowfall is common along Interstate 70 and U.S. 50 in the Fishlake Mountains, even in the Spring. This scene looks at SR 10 leading north from the freeway at Exit 91. 04/29/11 |
| | |
| --- | --- |
| | Interstate 70 trailblazer directing motorists from the nearby Eagle Canyon View Area back to the freeway at Exit 116. Moore Cutoff (CR 803) continues northwest 18 miles to Moore. 10/18/04 |
Sources:
"105 Miles Planned For Utah's Interstate." The Deseret News, January 11, 1969.
"I-70 project reaches end of road at last." The Deseret News, September 28, 1990.
"UDOT will open bids for work on part of I-70." The Deseret News, September 21, 1986.
Photo Credits:
10/18/04 by AARoads. 04/29/11 by Karl Forth.
Connect with:
Interstate 15
U.S. 50
U.S. 89
U.S. 191
Page Updated 06-30-2016.