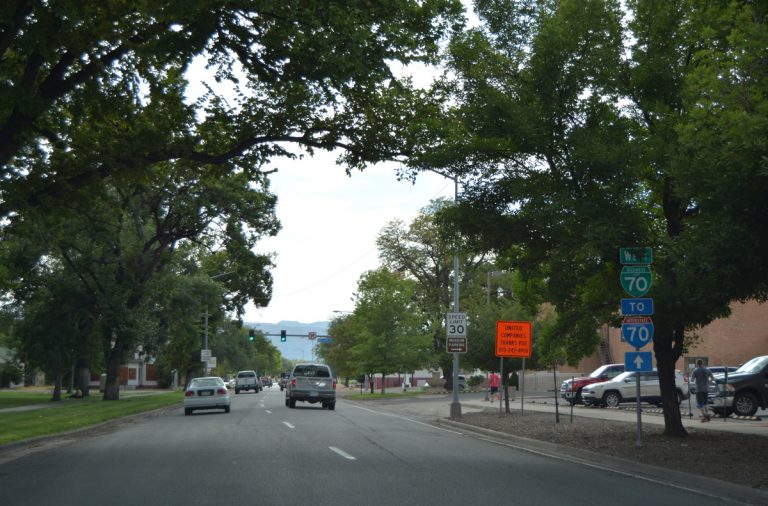 Following portions of U.S. 6 and U.S. 50 south of Interstate 70 through Grand Junction and Clifton, Route 070B totals 13.265 miles south from Exits 26 to 37. Business Loop I-70 is a controlled access, commercial arterial for much of its route northwest of Downtown alongside U.S. 50. U.S. 6 coincides with the business loop from the northwest to a wye interchange with North Avenue by the Rimrock Marketplace retail area. Through the business district, Business Loop I-70 follows a one-way couplet along Pitkin Avenue east and Ute Avenue west. U.S. 50 partitions with the route at 5th Street south.
Northeast of Downtown, Business Loop I-70 follows a four-lane highway through industrial areas as it parallels the Union Pacific Railroad toward Clifton. U.S. 6 overlaps with the loop again from the east end of North Avenue to the Palisade/Mount Lincoln cut-off via F Road east. The business route turns north from there to end beyond a distributor center and subdivision at I-70.
Business Loop I-70 Guides
Construction at the west end of Business Loop I-70 converted the diamond interchange there into the first diverging diamond interchange (DDI) in Colorado. The $4 million project to rebuild the exchange was completed in November 2013.1
Connect with:
Interstate 70
U.S. 6
U.S. 50
Page Updated 03-27-2017.