Angling northeast across the Buckeye State along a 248-mile route, Interstate 71 joins the three largest cities. Entering from Covington, Kentucky along side I-75 on the Brent Spence Bridge, I-71 runs east along the Cincinnati Riverfront to the Lytle Tunnel, where it turns northeast through Walnut Hills, the city of Norwood, and Oakley through east Cincinnati. The freeway runs through suburban cities and Hamilton County to Lebanon, where it transitions through a mixture of agricultural areas and forest land.
Approaching the capital city of Columbus, I-71 enters the metropolitan area at Grove City and turns north to Downtown, where it shares part of the innerbelt freeway with Interstate 70. Long term construction addresses congestion and design issues here, as I-71 encircles the south and east sides of the central business district northward. The freeway vacates Columbus beyond I-270 but stays suburban until past Alum Creek Lake.
Traveling northeast again, Interstate 71 passes by the cities of Mansfield, Ashland and Medina along an otherwise rural route. Interstate 271 partitions with the freeway east of Medina to comprise a belt route through the eastern Cleveland suburbs as I-71 turns northward to the suburban areas of Brunswick and Strongsville. The freeway continues north of the Ohio Turnpike (I-80) to Middleburg Heights, Brook Park and the Cleveland Hopkins International Airport (CLE) vicinity before entering the city of Cleveland at Interstate 480.
Following the Medina Freeway, the northernmost reaches of I-71 travel east-west from Kamm's Corners in Cleveland through the city of Brooklyn to the Jennings Freeway (Ohio 176). The route ends at a four-level interchange with Interstates 90 and 490 opposite the Innerbelt Freeway north to Downtown Cleveland. The route was initially proposed to extend north along the Innerbelt to I-90, when Interstate 90 was proposed along the unconstructed Parma Freeway and Cleveland Memorial Shoreway (Ohio 2).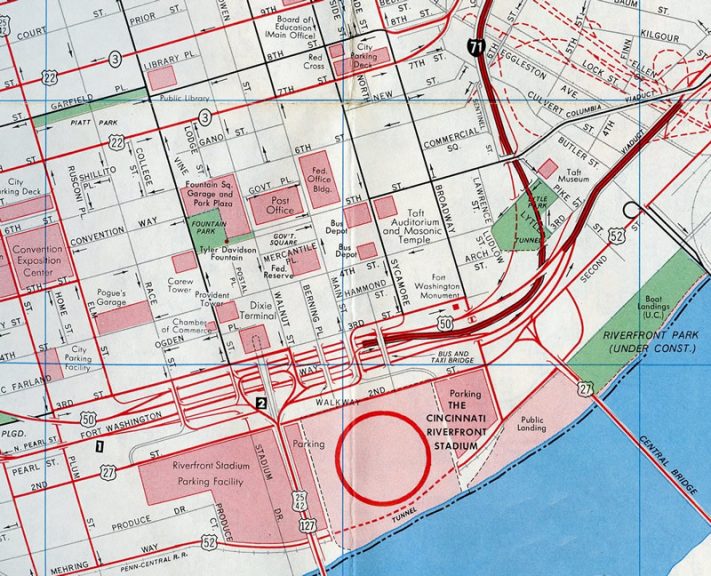 Through Downtown Cincinnati, Interstate 71 combines with U.S. 50 along Fort Washington Way, linking the Brent Spence Bridge with Columbia Parkway at Mt. Adams. The freeway travels below grade between the business district and riverfront areas, including Paul Brown Stadium (home of the Cincinnati Bengals) and Great American Ball Park (home of the Cincinnati Reds), east from I-75 to Broadway Street, and along a viaduct as U.S. 50 to the the merge with Columbia Parkway at I-471 (Dan Beard Bridge).
The urban connector was originally devised as the Third Street Distributor as part of a Metropolitan Master Plan released to the public in 1947. The plan outlined the road network for areas south of 3rd Street to the Ohio Riverfront, which were mostly abandoned following a historic flood in 1937. Renamed Fort Washington Way by 1959, construction on the freeway would not be completed until July 1961. It opened ahead of the Brent Spence Bridge carrying Interstates 71 & 75 across the Ohio River.1
Fort Washington Way was reconstructed as part of the multi-year Fort Washington Way 2000 project. The $313 million project rebuilt the trenched freeway as a straighter, eight lane roadway with rebuilt ramps at 2nd and 3rd Streets to the riverfront. Additionally the removal of ramps between I-71 and the John A. Roebling Suspension Bridge opened up 14 acres of land for redevelopment. The bulk of work was completed by a dedication ceremony held on December 20, 2000.2 Paving operations were not completed until June of 2001 due to the presence of heavy equipment installing decorative panels along the trench walls the previous summer, and cold weather during the winter.3 Long range plans incorporate lids above I-71 & U.S. 50 between Elm and Main Streets.
Interstate 71 north of Fort Washington Way passes through Lytle Tunnel below Lytle Park, 4th Street and 5th Street at Columbia Parkway. A two-year, $30 million project underway by mid-June 2015 brings the tunnel up to current design and fire code standards. Crews are adding more cameras and a fire dedication system, making tile repairs, and upgrading the lighting system among other improvements.4 Lytle Tunnel opened in 1969.
Interstate 71 Ohio Guides
| | |
| --- | --- |
| | scenes |
Interstate 70 & 71 trailblazers formerly posted along Hamon Boulevard northbound near Greenlawn Avenue at South Franklinton in Columbus. Greenlawn Avenue travels east to a diamond interchange with I-71 (Exit 105) nearby. I-71 north merges with I-70 east for a 1.5-mile overlap south of Downtown.
This assembly was replaced by 2011 with a single trailblazer for Interstate 71. 10/15/04
| | |
| --- | --- |
| | A 3di-width shield appears a top a lane configuration sign for the southbound ramp to Cincinnati on Greenlawn Avenue west in Franklinton, Columbus. Photo taken 10/15/04. 10/15/04 |
Sources:
"No Respect for Noble Roadway." Cincinnati Post, The (OH), January 26, 2004.
"New Look on the River." Cincinnati Post, The (OH), December 30, 2000.
"Final paving to begin on Ft. Washington Way." Cincinnati Post, The (OH), May 17, 2001.
"Upcoming two-year Lytle Tunnel construction project to impact traffic, bring closures." WCPO, May 20, 2015.


Photo Credits:

10/15/04 by AARoads

Connect with:
Interstate 275 Ohio


Page Updated 09-26-2016.