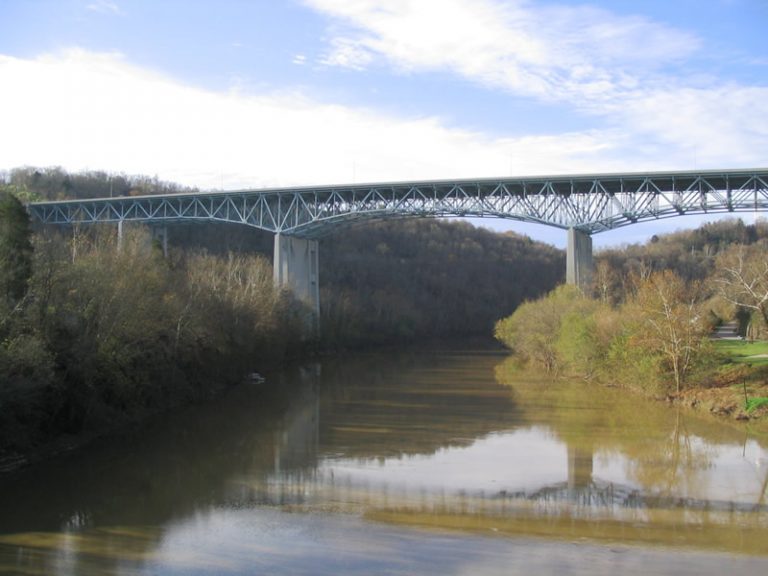 Interstate 75 travels across the height of Kentucky along a 191.777 mile course from south of Williamsburg to the Brent Spence Bridge spanning the Ohio River at Covington. Replacing U.S. 25, the freeway joins Corbin, London, Richmond, Lexington with the greater Cincinnati area.
Interstate 75 Kentucky Guides
Interstate 75 opened between Kentucky 22 at Dry Ridge and U.S. 42 in Florence in 1961 as one of the first Northern Kentucky freeways completed. The freeway was completed northward to Ohio by 1963.2
A substandard section of Interstate 71 & 75 between the city of Park Hills and Covington was reconstructed starting in June 1990 with blasting operations. Opened in fall 1962, the stretch was nicknamed "Death Hill" due to a high accident rate. It was the site of 23 deaths by 1968 due to a dangerous S-curve, a steep grade and weaving traffic at the Jefferson Avenue interchange.3,4 Early changes to the three mile section included lowering the speed limit from 70 miles per hour to 60. A median guard rail was added by 1968 as the speed limit dropped again to 50 mph. Electronic message signs were installed along the stretch while the guard rail was replaced with a concrete barrier in 1971. These changes lowered the number of fatal accidents, but 583 accidents per year were recorded by 1977.5
A major accident with a fatality occurred on June 25, 1986. It involved two tractor trailers and seven cars on I-75 northbound at 9th Street. This resulted in a detour for all heavy trucks without destinations in Covington to use Interstate 275. Although the S-curve was designed for 60 mph, the number of curves and the steep grade continued to result in complications for drivers navigating the freeway.4
Planning for the $46.5 million redesign of the I-71 & 75 at Death Hill started in the mid 1970s.3 A design for the removal of the S-curve was selected by the highway department in spring 1981. The contract for the project was awarded on December 28, 1989 to NCISA U.S.A. It was expected to run through November 1992.5
Redesign of Death Hill called for raising the bottom of the hill by 20 feet, expanding the southbound freeway to four lanes with a truck climbing lane for semi trucks, straightening out the S-curve and removing the ramps with Jefferson Avenue.3,4
The Jefferson Avenue exit was replaced with extended ramps onto Pike and 12th Streets to the north3,4. Associated work also converted the full cloverleaf interchange at Kyles Lane in Fort Wright to a diamond interchange.5
The Death Hill project encountered several delays and went over budget. Issues arose in May 1991 due to problems with installing a retaining wall at the 5th Street exit and miscalculations in replacing a sewer line at 12th and Pike Streets in Covington. The project was five months behind schedule at this point. Lead-contaminated sandblast debris from the concurrent project to repaint the Brent Spence Bridge buried along I-75 in 1990 further complicated matters. State highway officials pushed back the construction deadline to July 1993, but federal highway officials indicated that work likely would extend until 1994.5
A United Steelworkers of America strike in July 1992 effected INCISA with a contract expiration involving 150 members. Having to hire workers from another union and train them, further delays ensued. Improperly poured concrete on a 3,500 foot section in August and September 1993 also pushed back the completion date. Penalties were accessed by the state on April 1, 1994, and when work was completed on September 1, 1994, the project was $4 million over budget.5
The Brent Spence Bridge, the two-deck cantilever span that carries Interstates 71 & 75 across the Ohio River into Cincinnati, was configured as part of a $15 million project completed in 1986. Work expanded the northbound deck from three to four lanes while adding a third through lane to the southbound deck. The bridge was repainted as part of the multi-year project to rebuild the freeway at Death Hill. It was completed in July 1991.5
Long range plans call for the replacement of the 1963-opened Brent Spence Bridge and rebuilding of Interstate 75 to the north and south. The Brent Spence Bridge Corridor is estimated to cost $2.6 billion. Studies to replace the start were initiated in 2004.
| | |
| --- | --- |
| | scenes |
| | |
| --- | --- |
| | KY 2328 northbound approaching Interstate 75 & U.S. 25 & 421 at Exit 99. Paralleling the freeway over the Kentucky River, KY 2328 represents old U.S. 25. 10/31/04 |
| | |
| --- | --- |
| | U.S. 27 north & 68 east follow Broadway from Downtown Lexington to New Circle Road (KY 4) and Interstate 64 & 75 at the Pinehurst community of the city. 06/05/08 |
| | |
| --- | --- |
| | A folded diammond interchange joins the freeway with U.S. 27 & 68 (Broadway) due to the parallel railroad line. I-64 east & I-75 south split from the adjacent exchange toward Ashland and Knoxville respectively. 06/05/08 |
| | |
| --- | --- |
| | A second left turn takes motorists bound for Interstate 64 west to Frankfort and Louisville and Interstate 75 north to Cincinnati. U.S. 27 & 68 continue northeast and leave Lexington for the Bourbon County seat of Paris. 06/05/08 |
2 photos

2 photos

With five lanes, KY 620 (Cherry Blossom Way) connects Interstate 75 with the Georgetown Toyota Plant at a diamond interchange (Exit 129). A number of traveler services and an industrial park lie nearby. 11/03/11
| | |
| --- | --- |
| | Trailblazers posted for Interstates 71 and 75 at the southbound side rest area Florence. 10/01/10 |
Sources:
"I-471's birth slow to come - Plans and routes changed many times." The Kentucky Post (Covington, KY), November 30, 1998.
"The Awful Truth: I-75's 'Inconvenience' is Near." The Kentucky post (Covington, KY), May 4, 1990.
"Rebuilding Death Hill - 'Round The Bend - 'Caution' Byword on I-75 S-Curve - Second of Four Parts." The Kentucky post (Covington, KY), July 4, 1990.
"Done At Last 75 - Drivers back in fast lane after 5 years - First in a series." The Kentucky post (Covington, KY), August 20, 1994.
Photo Credits:
10/31/04 by Carter Buchanan.
06/05/08 by Justin Cozart.
10/01/10 by AARoads and Carter Buchanan.
11/03/11 by AARoads.
Connect with:
Interstate 64
Interstate 71
Interstate 275
Interstate 471
Page Updated 09-23-2016.