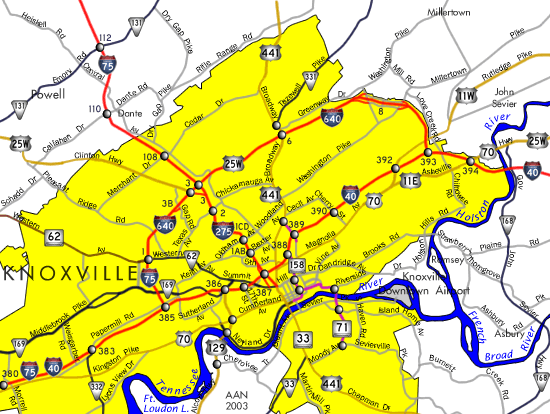 Interstate 75 travels 159 miles through Tennessee. Entering the Volunteer State at Chattanooga, I-75 initially heads northwest to the east end of Interstate 24 before turning northeast. Continuing from eastern reaches of Chattanooga, I-75 crosses White Oak Mountain toward the city of Cleveland. The freeway follows the trajectory of several ridges along the ensuing stretch through McMinn and Loudon Counties.
Crossing the Tennessee River near Loudon, I-75 approaches Lenoir City and the Knoxville metropolitan area. Interstate 40 combines with I-75 along a mostly eight lane freeway for 17 miles east from Hines Valley to West View in Knoxville. The two separate at I-640, with I-40 continuing east to Downtown Knoxville and I-75 joining I-640 to North Knoxville.
Interstate 75 Tennessee Guides
Interstate 75 splits with I-640 at Inskip in Knoxville, navigating along a winding course northwest across Beaver Ridge to Powell. Leaving Knox County beyond Diggs Gap, I-75 traverses a series of hills to the Cumberland Mountains near Caryville. A northeasterly turn takes I-75 along Pine Mountain toward the Kentucky state line.
| | |
| --- | --- |
| | Callahan Drive west at Interstate 75 in north Knoxville at Dante. 01/16/19 |



Photo Credits:

01/16/19 by AARoads

Connect with:
Interstate 24
Interstate 40
Interstate 140 / State Route 162
Interstate 640

Page Updated 06-28-2021.