Interstate 80 straddles the northern portions of the Beehive State, connecting West Wendover, Nevada, with Evanston, Wyoming. Between these two points, the busy freeway crosses the Great Salt Lake Desert, cuts through the Salt Lake City metro, and ascends the northern Wasatch Mountain range via Parleys Canyon. Among the highlights along the route are the seemingly endless expanse of the Great Salt Lake Desert at the western end. One can see the curvature of the earth due to the flat, empty, seemingly endless desert floor. Interstate 80 promptly becomes an urban freeway as it approaches the state capital of Salt Lake City, shares pavement with Interstate 15 near downtown, and then turns east again to leave the urban area. Urban development ends as Interstate 80 pierces the Wasatch Front and ascends to Park City, a well-known skiing destination. The canyons that guide the freeway northeast from Salt Lake City to Echo Junction and then northeast to Evanston, Wyoming, are quite scenic and steep.
Interstate 80 Utah Highway Guides
Interstate 80 replaces U.S. 40 and Alternate U.S. 50 between Wendover and Salt Lake City, U.S. 40 between Salt Lake City and near Park City, U.S. 530 from near Park City to Echo Junction, and U.S. 30S from Echo Junction to the Utah-Wyoming state line. An overlap with U.S. 189 at its eastern end is poorly signed.
63.4 miles of Interstate 80 across the state were open to traffic by 1969. An additional 40 miles, from Wendover to Knolls, 4.3 miles from Kimball Junction to Silver Creek Junction, and 5.1 miles from Coalville to Echo Junction, were scheduled to open in 1969. Work continuing from 1969 onward included 74.7 miles west and east of Salt Lake City.1 The freeway through Weber Canyon, between Unitah and Echo Junction, opened in early November 1971 at a cost of $28.4 million.2
The final segment of Interstate 80 in Utah opened on August 22, 1986 after a dedication ceremony held under an overpass west of Utah 68 (Redwood Road). Culminating 30 years of construction, the five mile section of I-80 between 5600 West and Utah 68 finished in Salt Lake County was the last for the entire 2,900 mile transcontinental freeway.3
The diamond interchange (Exit 145) at Utah 224 was replaced with a single point urban interchange in preparation for the 2002 Winter Olympic Games. Utah 224 provides the main route to Park City and Utah Olympic Park from Interstate 80. The state route was expanded in the early 1990s, but the exchange with I-80 remained with a 1960 design. The $10 million SPUI was chosen over a UDOT proposal for a flyover bridge and roundabout designs preferred by area residents. The year long project was completed by April 2001.4
Included in the statewide Renovate I-80 Projects, a $43 million project replaced the asphalt surface of Interstate 80 with concrete between U.S. 40 (milepost 148) and Wanship (milepost 155) between June 2014 through October 2015. Work also upgraded drainage systems and added variable message signs (VMS) along the corridor.5,6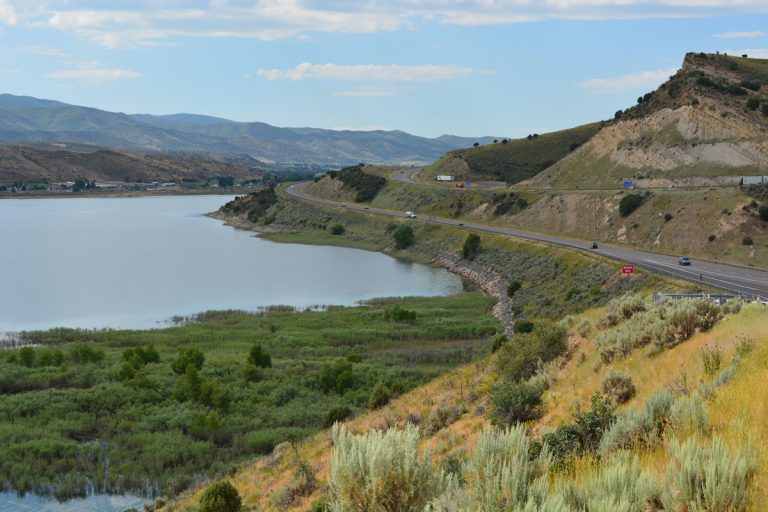 ---
| | |
| --- | --- |
| | Visitors may access the Bonneville Salt Flats International Speedway from Exit 4 of Interstate 80. Photo taken 05/16/12. |
| | |
| --- | --- |
| | Bonneville Speedway Road, a paved two-lane highway, arcs northeast from I-80 to the speedway area. Photo taken 05/16/12. |
3 photos

3 photos

3 photos

These pictures show the unusually flat surface of the earth at this location, which has allowed land speed records to be achieved. Photos taken 05/16/12.
| | |
| --- | --- |
| | Old Highway 40 west at the Knolls interchange (Exit 41) with Interstate 80. Photo taken 07/03/16. |
| | |
| --- | --- |
| | Freeway entrance sign posted for the on-ramp from Old Highway 40 to Interstate 80 east from Knolls. Photo taken 07/03/16. |
| | |
| --- | --- |
| | A rural diamond interchange joins Interstate 80 with 7200 West in northwest Salt Lake City. Photo taken 08/10/16. |
| | |
| --- | --- |
| | An older all-caps guide sign directs motorists from 7200 West back into Salt Lake. This style of sign was once commonly used throughout the state. Photo taken 08/10/16. |
| | |
| --- | --- |
| | Parleys Lane connects the census designated place of Summit Park with Interstate 80 at Exit 140. The mountainside community lies ten miles east of Salt Lake City. Photo taken 08/05/13. |
Sources:
"105 Miles Planned For Utah's Interstate." The Deseret News, January 11, 1969.
"Utah To Open Weber Canyon Interstate Freeway This Week." The Deseret News, November 8, 1971.
"Utah leaders dedicate new highway." The Deseret News, August 23, 1986.
"New Freeway Entrance Smooths Path to Park City - Lane-striping, landscaping,footbridge still in the works." Salt Lake Tribune, The (UT), March 21, 2001.
"I-80 Silver Creek Reconstruction." UDOT Transportation Blog, November 10, 2014.
"State Transportation Commission tours UDOT projects in Summit County." UDOT Transportation Blog, July 15, 2015.
Photo Credits:
05/16/12 by Steve Hanudel and Erik Slotboom.
08/05/13 by AARoads.
07/03/16 by AARoads.
08/10/16 by AARoads.
Connect with:
Interstate 15
Interstate 84
Interstate 215
U.S. 40
U.S. 89
Utah 201
Page Updated 09-15-2016.