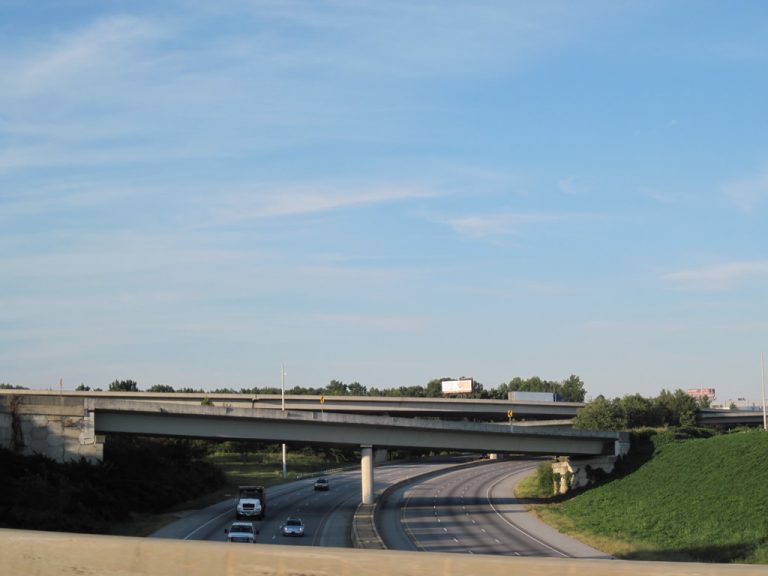 Totaling 179 miles through the Peach State, Interstate 85 leads northeast from Montgomery, Alabama through the capital of Atlanta en route to Greenville, South Carolina. Doubling as a commuter route for the Atlanta metropolitan area, the freeway carries six lanes or more from the Coweta County line near Exit 35 to SR 20 (Exit 115) at Buford. An overlap with Interstate 75 along the Downtown Connector in Atlanta swells the freeway to 16 overall lanes along the eight mile stretch.
Interstate 85 Georgia Guides
I-85 Atlanta Bridge Collapse
A major fire started underneath the elevated lanes of Interstate 85 at Piedmont Road (SR 237) in northeast Atlanta on March 30, 2017. The fire caused a 350 foot section of the northbound viaduct to collapse and significant structural damage to an adjacent 350 foot section of the southbound structure. A closure of the Northeast Expressway was implemented in both directions from the split with I-75 north to Gerogia Route 400 until April 1, when northbound traffic was opened from I-75 to Exit 86 (SR 13) and from the SR 13 on-ramp ahead of Buford Highway. The entire bridge structure will be rebuilt.9 Reopening of the freeway was anticipated for June 15, 2017.
Contractor C.W. Matthews completed repairs on the I-85 bridges well before the original completion date. Earning a $3.1 million incentive, the contractor reopened the northbound lanes to traffic on the evening of May 12, 2017. The southbound lanes reopened on May 14.10
The $1.4-billion "Freeing the Freeways" megaproject included the $94-million redesign of Interstate 85 southwest of Hartsfield-Jackson International Airport (ATL) where the freeway overlaps with the Perimeter Highway. The 1.6 mile project split the two freeways into separate roadways, with the addition of collector distributor roadways for the interchange with SR 279 (Old National Highway), while expanding the overall capacity from six to 16 lanes. This work coincided with the $115-million widening of 4.2 miles of I-85 southwest from Interstate 285 to SR 74 (Exit 61) and a 12-mile widening from Exit 61 to Peachtree City. Both those projects expanded the freeway from four to eight lanes with work on the northernmost projects completed by June 1988 and the southern project later that summer. The first contract for the work was let in 1982.1
Construction of the Tom Moreland Interchange, where Interstates 85 and 285 meet to the northeast of Atlanta, was undertaken simultaneously with work on Interstate 75 between Interstate 285 and Windy Hill Road. Totaling $124.5-million, the two projects were finished by September 1987.2
Reconstruction of the Downtown Connector wrapped up with the reconstruction of 2.3 miles of Interstates 75 & 85 between Williams Street and Interstate 20 in 1988. The overall 4.4-mile Downtown Connector widening cost $334.3-million, with one third of the costs coming from the Capitol Hill Interchange where Interstate 20 crosses I-75 & 85. The interchange project rebuilt the three-level interchange to eliminate left-hand ramps. This included raising Interstate 20 onto a 1,700 foot bridge at 60 feet above the Connector. Further south work to expand Interstates 75 & 85 from the stadium to the Lakewood Freeway (Langford Parkway) was completed in October 1987.3,4
A $40-million project undertaken between May 1995 and May 31, 1996 reconfigured Interstate 85 northeast from the Downtown Connector to the Gwinnett County with two new HOV lanes. Existing lanes were narrowed from 12 to 11 feet with a portion of the shoulder restriped as well to accommodate the new left-hand carpool lane. Done in time for the 1996 Summer Olympic Games in Atlanta, the project led to all preexisting left-hand ramps along I-85 becoming restricted to HOV-2 eligible vehicles. This included Interstate 85 at Lindbergh Drive and the Downtown Connector ramps for Williams / Spring Streets, Piedmont Avenue, Pryor Street and Memorial Drive.5
A major revamp of the Interstate 85 and SR 316 exchange near Duluth took place between February 20, 2006 and December 31, 2008. Costing $147-million, a state spending record at the time, the project involved the building of 13 bridges and 31 miles of new lanes including collector distributor roadways and extension of the then-HOV 2 lanes that ended at Steve Reynolds Road (Exit 103). The previous wye interchange (Exit 106) with SR 316 was greatly expanded with new flyover ramps connecting with the now I-85 Express lanes and the added c/d roadways running from Pleasant Hill Road (Exit 104) to SR 120 (Exit 107).8
The HOV-2 lanes along Interstate 85 from Interstate 75 northeast to Buford were converted into High Occupancy Toll lanes on October 1, 2011 after several months of construction. The change allows single occupant motorists to use the lanes while paying a toll collected with a Peach Pass or network associated transponder. HOV-3 traffic may use the lanes free of charge with a Peach Pass set to "No Toll" status.9
| | |
| --- | --- |
| | scenes |
| | |
| --- | --- |
| | Georgia 219 (Whitesville Road) leads south from Downtown LaGrange to meet Interstate 85 at a diamond interchange (Exit 13). A handful of travelers services lie on both sides of the exchange. 06/24/10 |
| | |
| --- | --- |
| | Georgia 109 (Greenville Road) enters the city limits of LaGrange and quickly expands into a four-lane divided highway through the parclo interchange with Interstate 85. 04/13/12 |
| | |
| --- | --- |
| | Interstate 85 leads southwest from SR 109 (Lafayette Parkway) and LaGrange to West Point, Opelika, Auburn and Montgomery, Alabama. 04/13/12 |
| | |
| --- | --- |
| | Lafayette Parkway continues west from Interstate 85 to become an undivided commercial arterial to LaGrange Mall and Georgia 14 Spur (South Davis Road). 04/13/12 |
| | |
| --- | --- |
| | Entering the parclo interchange with I-85 on Georgia 109 (Lafayette Parkway) eastbound. Interstate 85 straddles the southeastern periphery of LaGrange between West Point and Hogansville. 04/13/12 |
| | |
| --- | --- |
| | A shield for the northbound loop ramp to Interstate 85 north hangs above the eastbound lanes of Georgia 109. Lafayette Parkway transitions into rural Greenville Road east of I-85 to Mountville. 04/13/12 |
| | |
| --- | --- |
| | An Interstate 185 trailblazer accompanies the I-85 shield and guide sign for the northbound on-ramp to Atlanta. Interstates 85 and 185 come together just northeast of Georgia 109 and Exit 18. 04/13/12 |
| | |
| --- | --- |
| | Collinsworth Road expands to three lanes through the diamond interchange (Exit 56) with Interstate 85. 09/28/10 |
| | |
| --- | --- |
| | Collinsworth Road joins Palmetto and Tyrone along a rural stretch of highway in northeastern Coweta County. Interstate 85 north exits the county for Fairburn, Union City and Atlanta. 09/28/10 |
| | |
| --- | --- |
| | A ramp meter in operation on the northbound on-ramp to Interstate 85 from Georgia 74 at Fairburn. Ramp meters were instituted on Atlanta area Interstates starting in June 2008. The signals at GA-74, GA-138, Flat Shoals Road and Riverdale Road became operational on July 1, 2010.6 09/28/10 |
Sources:
"Light at end of the tunnel for Interstate 85 construction." The Atlanta Journal and The Atlanta Constitution, September 17, 1987.
"Rebuilding of Brookwood interchange expected to be finished in October." The Atlanta Journal and The Atlanta Constitution, August 22, 1986.
"Atlanta's freeways on road to recovery." The Atlanta Journal and The Atlanta Constitution, July 19, 1985.
"Freeing Downtown Connector still two years down the road." The Atlanta Journal and The Atlanta Constitution, December 1, 1986.
"HOV work inside I-285 to clog traffic - Yearlong project: Creation of additional lanes - is supposed to be finished by the start of the '96 Olympics." The Atlanta Journal and The Atlanta Constitution, May 20, 1995.
"DOT: No problems with ramp meters at Hwy. 74/I-85" The Citizen, July 6, 2010.
"Ga. 316 remake: No pain, no gain - Officials to break ground today." Atlanta Journal-Constitution, The, February 20, 2006.
"I-85 Express Lanes face first rush hour test." 11Alive, October 3, 2011.
"Fire erupts on Atlanta interstate overpass, prompting parts to collapse." WYFF (Atlanta, GA), March 31, 2017.
"I-85 northbound lanes reopen in Atlanta." Atlanta Journal-Constitution, May 12, 2017.
Photo Credits:
06/24/10, 09/28/10, 04/13/12 by AARoads
Connect with:
Interstate 20
Interstate 75
Interstate 185
Interstate 285 - Atlanta Perimeter Highway
Interstate 985
Page Updated 05-15-2017.