Interstate 87 is designated along 13.2 miles of freeway between southeast Raleigh and Knightdale in Wake County. Originating at the exchange with I-40/440 near the Walnut Creek neighborhood, I-87 initially runs concurrent with I-440 to a directional-T interchange with U.S. 64/264 in east Raleigh. There, I-87 joins U.S. 64/264 along the Knightdale Bypass on an easterly course around the city of Knightdale to its conclusion at the interchange (Exit 13) with U.S. 64 Business. U.S. 64/264 proceeds northeast from there to their split at Zebulon.
Interchanges along the Knightdale Bypass were renumbered by July 2019 to reflect I-87 mileage1, starting with the exchange at I-440 (Exit 3) and proceeding eastward. Rolesville Road represents the last I-87 based interchange (Exit 14), with U.S. 64 mileage based interchange numbers resuming at Lizard Lick Road (Exit 432).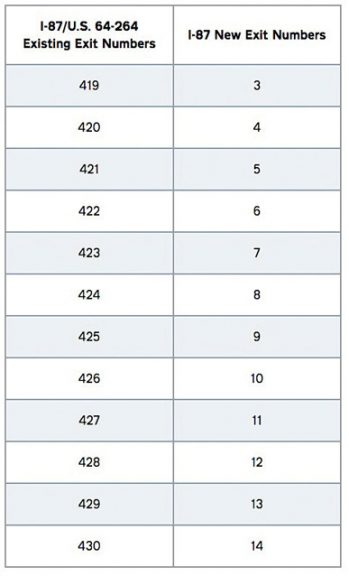 Interstate 87 North Carolina Guides
The Future I-87 corridor overlays U.S. 64 east to Rocky Mount, Tarboro and Williamston. This section is already a freeway, but without continuous full shoulders needed to meet Interstate standards. North from Williamston, Future I-87 follows U.S. 17 to Windsor, and east to Edenton, Hertford and Elizabeth City. Freeway bypasses are already in place north of Windsor, north of Edenton and west of Elizabeth City. At-grade portions between the respective freeway segments will be either upgraded, or bypassed when funding becomes available.
There are no short term plans to extend Interstate 87 across the Virginia line into Hampton Roads, but the long range goal of I-87 is to directly connect with the exchange joining U.S. 17 with the Chesapeake Expressway (SR 168), I-64 and I-464. I-87 will end along U.S. 17 at the state line for the foreseeable future. The main branch of I-87 runs from the Bronx in New York City to the Canadian border at Champlain in Upstate New York. There are absolutely no plans to link the North Carolina section of I-87 with the long established route in the Empire State.
Interstate 495 was the previous designation slated for the U.S. 64 freeway between Raleigh and Rocky Mount. I-495 was announced by the North Carolina Department of Transportation (NCDOT) in December 2013. U.S. 64 along the Knightdale Bypass was subsequently added to the Interstate highway system and signed as I-495. Future I-495 corridor signs were posted between interchanges along U.S. 64 east of I-540 at Knightdale to I-95 outside Rocky Mount. These were removed once the corridor was renumbered to Interstate 87.