Interstate 90 travels along a 275.70-mile course through southern Minnesota, joining Sioux Falls, South Dakota with La Crosse, Wisconsin.
I-90 enters the North Star state from Sioux Falls, and proceeds east through Rock County to the Nobles County seat of Worthington. Beyond Worthington, I-90 advances across lower Jackson County along relatively flat terrain. Crossing U.S. 71 at Jackson, the freeway stair-steps north and east to Fairmont, then angles southeasterly to Blue Earth in Faribault County. I-90 stays north of Albert Lea, crossroads of I-35, and Austin as it continues eastward through Freeborn and Mower counties. Ahead of Dexter, I-90 turns northeast to Olmstead County, where U.S. 52 joins I-90 with the county seat of Rochester. Interstate 90 resumes an easterly course at Marion, traversing hilly terrain as it advances across Winona County before dropping in elevation into the Mississippi River valley. U.S. 14/61 joins I-90 at Dakota as the freeway dips southeast to line the Mississippi River. I-90 turns east to cross the Mississippi River on the Dresbach Bridge into Wisconsin ahead of the city of La Crescent.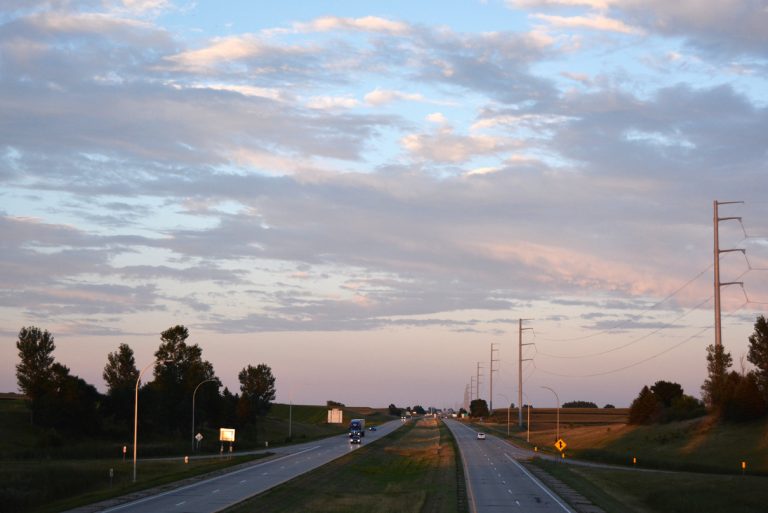 Interstate 90 Minnesota Guides
The first stretch of I-90 in Minnesota to be completed was the bypass of Austin in Freeborn County. Known initially as the Austin Belt Line, a 2.4 mile section was under construction between Exits 175 and 178A by Summer 1958.1 Prior to being designated Interstate 90, the Austin Belt Line was referenced as Highway 252 and Interstate Freeway (system) 3911, the latter being used by the Minnesota Department of Transportation as part of an internal numbering system for their Interstate highways.
By late Spring 1963, only 8.8 miles of Interstate 90 had been completed in the North Star State. In addition to the Austin Belt Line, a 3.8 mile segment of I-90 had been built from the South Dakota state line to Beaver Creek.2 Additional miles of the freeway under construction at the time included:
29.5 miles between Austin and Stewartville
8.9 miles between Austin and now former U.S. 16 at Petran Farms
5.3 miles near Dakota
Interstate 90 across Minnesota was completed by September 1978, when the east and west portions were connected at Blue Earth in Faribault County. Reminiscent of the golden spike that coincided with the completion of the transcontinental railroad in 1869, the I-90 Golden Spike Marker symbolizes the final miles of freeway completed. Dedication plaques are located at the east and westbound Blue Earth rest areas. I-90 also replaced the portion of former U.S. 16 between the South Dakota state line and MN 16 at Dexter.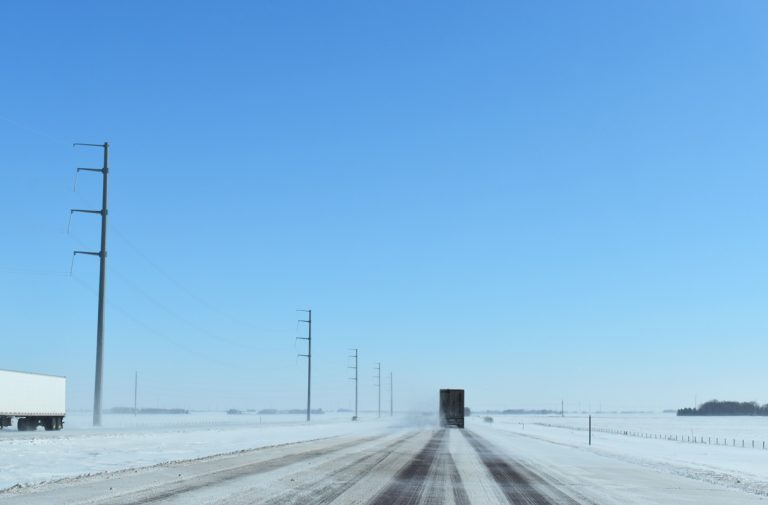 Constructed between 2013 and 2016, twin cantilever concrete segmental box girder bridges replaced the original span carrying Interstate 90 over the Mississippi River. In addition to building new structures to replace the 1967-built plate girder bridge, improvements were made to the interchange (Exit 276) between I-90 and U.S. 14/61. Costing $189 million, the Dresbach Bridge opened to traffic October 21, 2016.3
A two year project commenced Spring 2020 will update and modify the I-90/U.S. 63 interchange (Exit 209AB) north of Stewartville. Improvements at the exchange include replacing the U.S. 63 bridges over I-90 and modifying ramp geometry. Additional work will close existing access between U.S. 63 and MN 30 north of the interchange, resulting in an extended overlap between the two highways. MN 30 will depart U.S. 63 at a dumbbell interchange to follow Olmsted CSAH 16 and 8 along the north and west boundaries of Rochester International Airport (RST). The $15.42 million project is slated to conclude near the end of 2021.
Three Business Loops are designated for Interstate 90 within the North Star state, serving the cities of Austin, Fairmont, and Worthington.
Sources:
"Belt Line Bids Slated June 27", The Austin Daily Herald, June 12, 1958, article retrieved August 8, 2020.
"Pot Pourri", The Austin Daily Herald, June 4, 1963, article retrieved August 8, 2020.
Minnesota, Wisconsin celebrate completion of I-90 bridge, La Crosse Tribune, October 21, 2016, retrieved August 14, 2020.
Page Updated 08-21-2020.