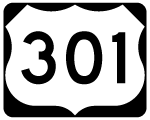 Business Loop I-95 through Fayetteville was established in the late 1970s along U.S. 301. The 15.13 mile long route varies between a limited access highway and a controlled access arterial and generally serves interests to Downtown from Hope Mills and Eastover. A second business loop for Interstate 95 was posted from the late 1970s to 1988 through Rocky Mount. This loop also utilized U.S. 301 and a portion of NC 4.
Business Loop I-95 North Carolina Guides
Connect with:
Interstate 95
U.S. 301
Highway 24/27
Highway 87
Highway 162

Page Updated 05-28-2021.