The Inner Belt (then Missouri Route 725) was completed in 1983 between Interstate 270 and U.S. 40 (I-64). The freeway was first envisioned in the early 1950s as a 19 mile long route between Berkeley and Webster Groves. Delays in construction and soaring costs exceeding $125 million eventually led to the cancellation of the southern leg of the planned route beyond U.S. 40.1
Interstate 170 Missouri Guides
Other proposals involved extending the Inner Belt to Interstate 55 in south St. Louis County. Potential social and financial impacts resulted in officials dropping talks about that highway plan by 1977. Planning in 1988 began for an upgrade of the south end interchange with U.S. 40 (Interstate 64). Designs were to accommodate an extension of Interstate 170 south.1 Studies continued through 1990, when the extension south to Interstate 44 was designated as Missouri Route 725, which was the original number applied to the Inner Belt before its inclusion into the Interstate system. This proposal involved two corridors: The first paralleled railroad right of way from Clayton Road southward while the second followed Black Creek south from U.S. 40 to cross Hanley Road and parallel the same railroad line to I-44.2 While an extension of I-170 was never constructed, the railroad was later incorporated into the Blue Line of Metro Link's light rail system.
The south end of Interstate 170 was upgraded substantially from a partial interchange with I-64/U.S. 40 at Richmond Heights during the "The New I-64" rebuild. As part of the $535 million upgrade of Interstate 643, a systems interchange was constructed with I-170, providing the missing movements to I-170 north from I-64 east and I-170 south to I-64 east. This work coincided with a $25.9 million upgrade of the six-ramp parclo interchange with Route 340 (Olive Boulevard) into a SPUI. The Olive Boulevard project was completed December 7, 2007.4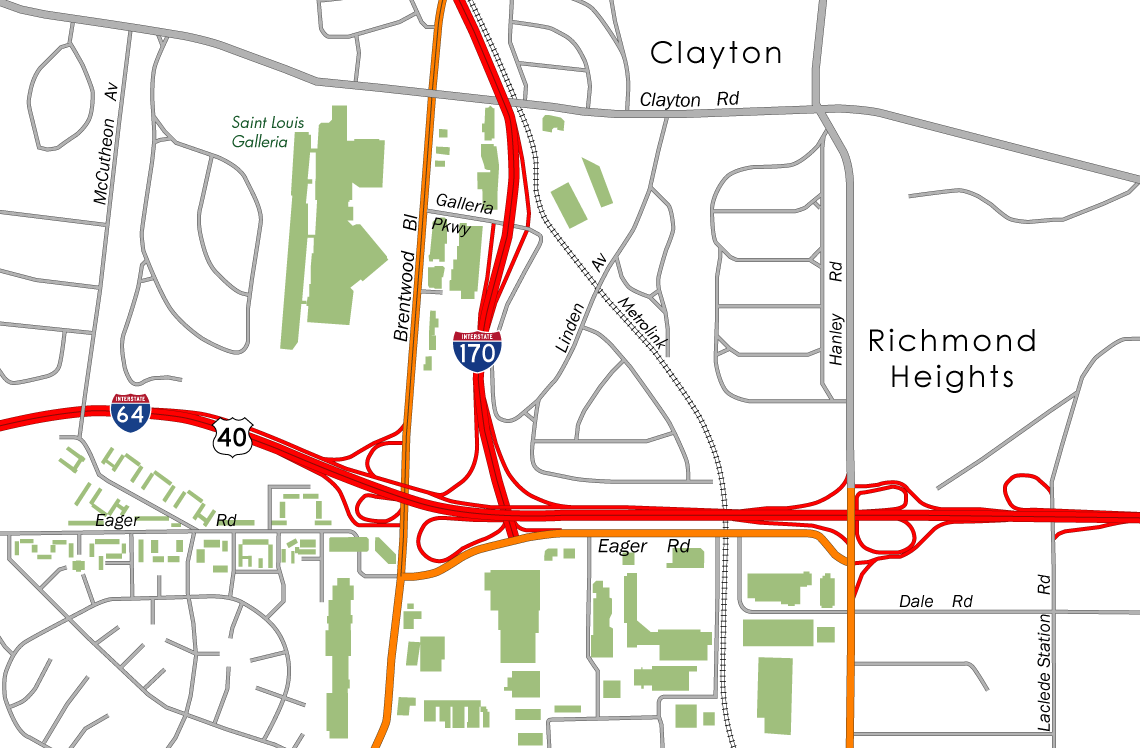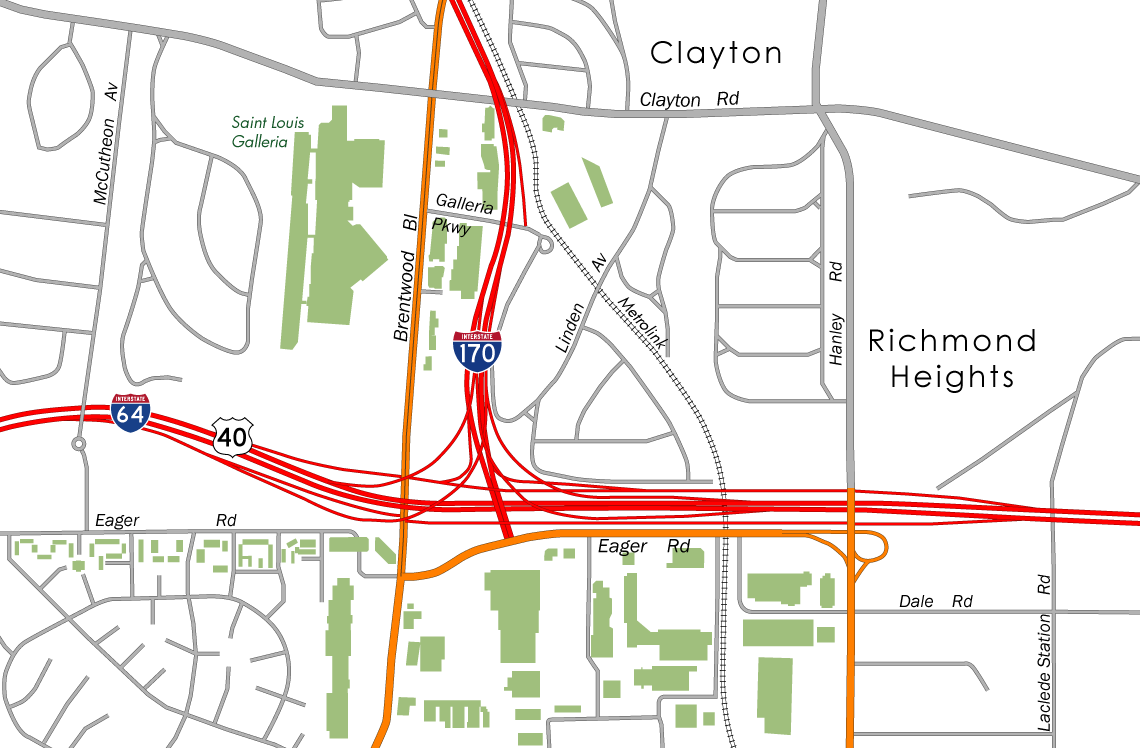 Sources:
"IDEA TO EXTEND I-170 SOUTHWARD REVIVED." St. Louis Post-Dispatch, August 17, 1988.
"Extension Of I-170 Proposed." St. Louis Post-Dispatch, June 16, 1990.
The New I-64 - Missouri Department of Transportation - http://www.thenewi64.org/ (MoDOT project web site).
"I-170 & Olive Blvd. Interchange Project -- Project Accelerated!" - MoDOT project web site - http://www.modot.org/stlouis/major_projects/i170andoliveinterchange.htm.
Connect with:
Interstate 64
Interstate 70
Interstate 270
Page Updated 04-01-2013.