Interstate 195 links downtown Providence with Seekonk and Fall River, Massachusetts. The freeway initially received the designation Interstate 95E in 1957, before receiving the I-195 numbering in 1959. Work opened the majority of the freeway into Massachusetts by 1960, yet the interchange with Interstate 95 was not completed until 1964 and the portion along Fox Point Boulevard through India Point Park until 1968. The freeway utilized the 1932-built eastbound Washington Bridge and 1968-built westbound Washington Bridge over the Seekonk River.1
Interstate 195 Rhode Island Guides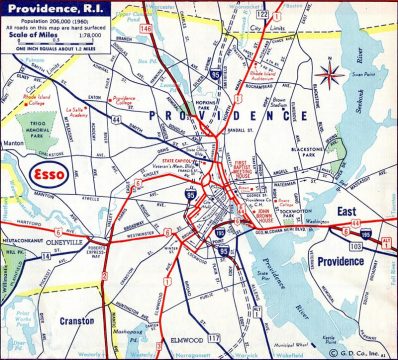 Due to the substandard nature of Interstate 195 and high accident rate associated with the freeway, RIDOT and the FHWA approved a new alignment. Work between 2003 and 2010 relocated Interstate 195 onto a southerly path through India Point Park between a new interchange with Interstate 95 and the Washington Bridge. The project included a new steel arch (Iway) bridge for the Providence River and a replacement pedestrian overpass at India Point Park.1,2 The $623 million project6 entailed redevelopment of land, parks, new walking paths, and other infrastructure improvements. The new Iway arch bridge opened to eastbound traffic in conjunction with a new ramp from I-95 north to I-195 east on November 4, 2007. Opening of the span westbound followed on October 22, 2009, along with the new ramp to I-95 north from I-195 west. Demolition of the old bridge and subsequent street improvements followed between 2008 and 2012.3,4,6.
Demolition of the old freeway arcing northwest from Fox Point to Downtown was partially completed when a symbolic gold wrecking ball event was held on November 15, 2010. That ceremony commemorated the removal of the unused highway between Benefit Street on the East Side, west to the removed ramps with I-95 at Downtown.6 The $6.8 million Iway demolition contract concluded in summer of 2011.7
Running in tandem with the Iway project was a $42 million project to replace the eastbound Washington Bridge across the Seekonk River. The replacement was necessitated by the discovery of concrete deterioration within the 1930-built bridge. Work to build a new bridge took place while the old span remained in service. Work commenced on July 30, 2001.5,6
The new eastbound Washington Bridge opened initially on September 7, 2006 with four lanes.6 Construction was completed on December 5, 2008 with the addition of a fifth lane and outside shoulder.7
Sources:
RIDOT 195 Relocation Animations (http://www.dot.state.ri.us/projects/construction/195relo/).
195 Relocation: Background (http://www.providence.edu/polisci/students/indiapointpark/195background.html), Current Issues Facing India Point Park (http://www.providence.edu/polisci/students/indiapointpark/index.html).
"Washington Bridge work to begin." Providence Journal, July 29, 2001.
"Traffic heading east on Route 195 to cross new bridge." Providence Journal, September 7, 2006.
"Ceremony this morning for new Iway ramp to Route 195." Providence Journal, December 5, 2008.
"Transportation - Beginning of end for old Route 195." Providence Journal, November 16, 2010.
"Work on 195 demolition to affect Providence weekend traffic." Providence Journal, June 16, 2011.
Connect with:
Interstate 95
U.S. 6
Page Updated 02-26-2015.