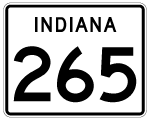 Interstate 265 runs for 7 miles to the north of New Albany, Clarksville, and Jeffersonville, serving the suburban parts of those communities. The interstate forms a connection between Interstate 64 and Interstate 65 as a bypass of Louisville. The route is multiplexed with Indiana 62 for all 7 miles. East of Interstate 65, the highway is known as Indiana 265 but will become Interstate 265 upon the completion of the East End Bridge. Once that is completed, it will join with the Interstate 265 (Gene Snyder Freeway) beltway around Louisville.
Interstate 265 Indiana Guides
Connect with:
Interstate 64
Interstate 65
Page Updated 01-12-2012.