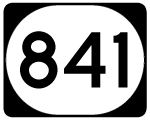 Together with the East End Bridge, Interstate 265, Indiana State Road 265 and Kentucky Highway 841 form a three quarter long beltway encircling Louisville and the Falls City area of southern Indiana. The Interstate portion in Kentucky overlays the Gene Snyder Freeway for 24.022 miles between I-65 in south Louisville and I-71 in northeast Louisville. KY 841 extends west from I-65 to U.S. 31W in southwest Louisville and north from I-265 to Green Spring and the Ohio River for a total of 14.859 miles.
Interstate 265 Kentucky Guides
Connect with:
Interstate 64
Interstate 65
Interstate 71
Page Updated 03-06-2012.