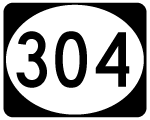 Interstate 269 initially spurred 2.7 miles south from the Tennessee state line to Mississippi 302 at Cayce in Marshall County. The succeeding segment opened to traffic on December 7, 2017. The $76 million project extended I-269 southwest from Cayce, 14.4 miles to Mississippi 305 at Lewisville. The final section of the 25.9-mile route through northern Mississippi is under construction, with completion anticipated for the fall 2018.1
Ultimately I-269 will form a half beltway encircling Memphis, Tennessee from I-55 & 69 at Southhaven to U.S. 51 and the Future I-69 corridor at Millington, Tennessee. Much of the route will be rural initially, with suburban development following. The route will also provide part of the long distance route southeast to Birmingham via Interstate 22, as I-22 will end at I-269 and Byhalia.
Mississippi 304 is the state route counterpart to both Interstate 69 between U.S. 61 at Tunica and Interstate 55 at Southhaven, and Interstate 269 from Cayce to the state line. The route is fully cosigned along both freeways.
Interstate 269 Mississippi Highway Guides
---
Sources:
"Memphis to Byhalia nonstop: I-269 and I-22 now intersect." Commercial Appeal (Memphis, TN), December 8, 2017.
Page Updated 02-16-2018.