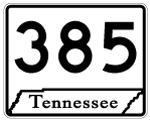 Interstate 269 is the outer beltway encircling the north and east side of Memphis and the Southhaven, Olive Branch and De Soto County suburbs in northern Mississippi. The Volunteer State portion consists of a short stretch from Bill Morris Parkway (SR 385) south to Cayce, MS; Governor Winfield Dunn Parkway between Collierville and Arlington; and Paul W. Barret Parkway west from Arlington to Millington.
All sections of the Memphis outer beltway, with the exception of the October 23, 2015 opened spur from Collierville south to Marshall County, Mississippi, were built and signed as SR 385. SR 385 originally comprised a 48.9-mile U-shaped freeway route originating from I-240 by the Eastgate neighborhood in Memphis. The freeway follows Bill Morris Parkway east to Collierville, where it turned north to Arlington. I-269 replaced the state route from Collierville to I-40 in 2017. The state route resumes west along Paul W. Barret Parkway to a half diamond interchange with U.S. 51 in Millington. The short extension west to Segments 8/9 of Interstate 69 remains to be built.
Tennessee 385 / Interstate 269 winds through mostly rural areas or by the outer suburbs of Memphis. The beltway promotes economic development at many of its interchanges, and the freeway will eventually provide a commuter route. Completed in Mississippi on October 26, 2018, I-269 provides part of a long distance route for Interstate 22 east to Tupelo and Birmingham, while connecting with I-69 leading west to Tunica and I-55 south to Jackson.
Signs for Interstate 269 appeared along the five-mile stretch between Mississippi 302 at Cayce and Tennessee 385 at Collierville when it opened. The route north to Arlington was approved as a 19.18-mile extension of Interstate 269 by the AASHTO U.S. Route Numbering Committee on May 24, 2016. The remainder of the beltway west to Millington will likely remain SR 385 until I-69 is completed along Segments 8 and 9.
Interstate 269 Tennessee Guides
Connect with:
Interstate 40
State Route 385
Page Updated 02-09-2010.