Interstate 295 constitutes the eastern "Bypass" of the city of Philadelphia between New Castle, Delaware and Trenton, New Jersey. The four to six lane freeway however mainly serves commuting interests through the eastern Philadelphia suburbs and the Camden vicinity. The highway parallels the New Jersey Turnpike from Deepwater north to White Horse east of Trenton. The bulk of through traffic headed north to New York City and North Jersey generally uses the Turnpike in favor of either I-95 or I-295. However both routes are still heavily traveled for interests in and around the city of Philadelphia.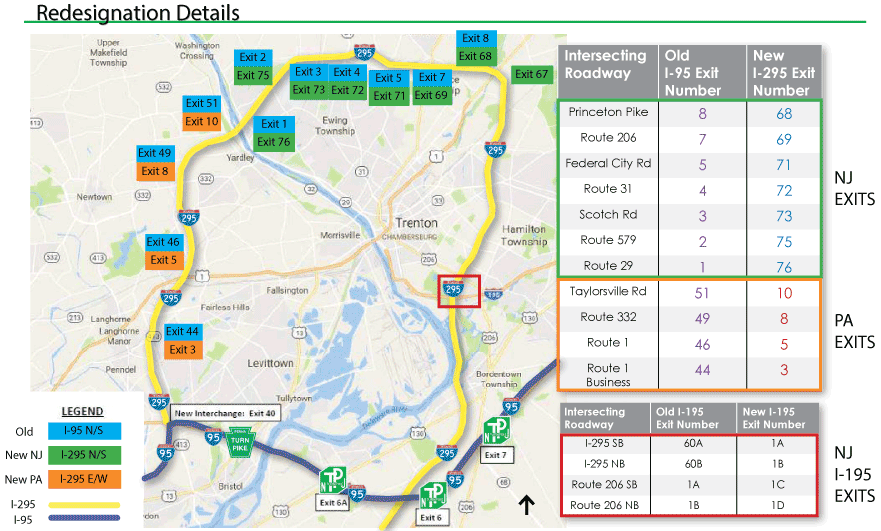 With Interstate 95 relocated to the Pennsylvania Turnpike east from Bristol, Pennsylvania and the Pearl Harbor Memorial Turnpike Extension to Mansfield Township, sign changes implemented in January 2018 extended I-295 west from Lawrenceville and U.S. 1 to the Scudder Falls Bridge over the Delaware River. Subsequent sign changes in Spring 2018 further lengthened I-295 southwest over what was I-95 in Bucks County, Pennsylvania. Along the north Trenton belt line, signs for I-295 continue the north/south cardinal directions. Within the Keystone State, I-295 is signed as an east/west route.
Interstate 295 New Jersey Guides
Prior to 1993, I-295 traveled west from U.S. 1 to NJ 31, ten years after plans for the Somerset Freeway alignment of I-95 were dropped. The final 3.1-mile segment of Interstate 295 opened on December 22, 1994 between U.S. 130 & 206 and Interstate 195 along wetland areas beside the Delaware River through Bordentown and Hamilton townships. Constructed as part of the $400-million Trenton Complex project, the last segment of I-295 ties into NJ 29 leading north from I-195 to the then-new NJ 129.1 Work to build the six-lane freeway along the Delaware River commenced in 1990 as a six-contract project costing more than $250 million.2 Otherwise most of Interstate 295 was opened by the 1960s and 1970s. Some more specific dates:3
March 1961 - I-76 east to U.S. 30 at Barrington.
1963 - 6.6 miles from U.S. 30 at Barrington to NJ 73 in Mount Laurel township.
April 27, 1969 - 3.9 miles from NJ 73 to CR 537 (Marne Highway) in Mount Laurel township
October 26, 1972 - NJ 38 to CR 541 in Burlington township
November 1972 - 13 miles in Burlington County
May 26, 1973 - 8.5 miles at Bordentown
December 1974 - half mile between Rising Sun Road and U.S. 130 in Bordentown township
Various improvements were completed along the freeway east of Camden in the mid-2000s, resulting in widening, reconstruction and implementation of sound barriers. A long range project addresses the exchange joining I-76, I-295 and NJ 42 (North-South Freeway) at Bellmawr. Started in March 2013 and running through Winter 2023, the four-contract project removes I-295 from the short overlap with I-76 and NJ 42, adding a new mainline above the North-South Freeway. It also adds missing ramps to join I-295 north with NJ 42 south and NJ 42 north to I-295 south. Ramps at the northern exchange between I-76 and I-295 will be redesigned as well. Details on the project at the NJDOT web page: I-295/I-76/Route 42 Direct Connection.
| | |
| --- | --- |
| | scenes |
| | |
| --- | --- |
| | Junction Interstate 295 & U.S. 130 shield assembly posted along Tomlin Road (CR 607) north in Greenwich township. 06/19/00 |
| | |
| --- | --- |
| | Sloan Avenue (CR 649) east at I-295 south at Mercerville in Hamilton Township. 09/26/09 |
Sources:
"Trenton Complex to open." The Times (Trenton, NJ), December 22, 1994.
"DOT CUTS RIBBON ON TRENTON ROADWAY NETWORK." The Star-Ledger (Newark, NJ), December 23, 1994.
"A look back: Route 295." Courier-Post, April 5, 2013.


Photo Credits:

06/19/00, 09/26/09 by AARoads

Connect with:
Interstate 76
Interstate 95
Interstate 195
U.S. 1
U.S. 130
U.S. 206
U.S. 322
Route 29
Route 42 - North South Freeway
Route 73

Page Updated 11-16-2018.