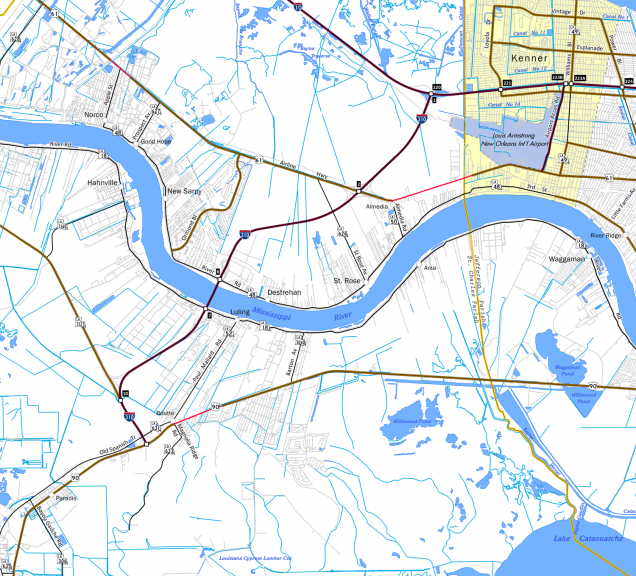 Interstate 310 is an 11.25-mile freeway spur joining the greater New Orleans metropolitan area with U.S. 90 near the community of Boutte. The freeway provides a direct connection between U.S. 90 and the cities of Houma, Morgan City, and Raceland, with Interstate 10 at Kenner. Originally envisioned as the westernmost leg in the unconstructed Interstate 410 New Orleans beltway, the freeway opened in stages between 1983 (Hale Boggs Bridge) and May 7, 1993 (connection between U.S. 61 and I-10).
Speed limits along the elevated portion of Interstate 310, from two miles south of Exit 2 to Interstate 10, were lowered from 70 to 60 miles per hour in 1999. The reduction was based upon a LADOTD recommendation by an interagency task force after a series of crashes along the elevated stretch of I-10 over Atchafalaya Basin. The reduction was applied to rural elevated Interstates in Southeastern Louisiana.1
Interstate 310 Louisiana Guides
Sources:
"DOTD Announces 70 Mph Speed Limit on I-55 to be Restored." http://www.dotd.louisiana.gov/ pressreleases/Release.aspx?key=355 Louisiana Department of Transportation and Development (LADOTD), press release. December 18, 2003.
Connect with:

Page Updated 09-07-2012.