The southern beltway around Birmingham, Interstate 459 varies between four and six lanes and carries a 65 to 70 mph speed limit. It is the preferred route for Interstates 20 and 59 through traffic in the area.
Interstate 459 Highway Guides
Initial construction of the Birmingham bypass commenced in 1968.2 Interstate 459 first opened between Interstates 20 and 59 northeast of Birmingham, which occurred by 1978. The final stretch of Interstate 459 to open was the 5.2-mile segment from south of Bessemer to Alabama 150 at a cost of $28.7-million.1 The freeway was completed by the end of 1984.3
Road work along Interstate 459 involved the expansion and redesign of the congested interchange (Exit 19) with U.S. 280 near Mountain Brook. A three-phase project was planned to address problems with the busy junction. Phase I saw the widening of the U.S. 280 overpasses over Interstate 459 and the widening of a four-lane bottleneck at the east entrance to the Summit Shopping Center. Next completed was the realignment and extension of the right-hand turn lane from Interstate 459 northbound to U.S. 280 eastbound. Exit 19 sees ramps from both directions of Interstate 459 combine ahead of the northbound ramp end with U.S. 280. The bridge above Colonnade Parkway was expanded to accommodate two lanes for each direction of U.S. 280. Phase II of the project, scheduled to start in summer 2004 but never completed, entailed the construction of new flyover ramps from U.S. 280 west onto Interstate 459 south and north. This would have eliminated the U.S. 280 ramp to Blue Lake Drive, with a relocation of Blue Lake Drive to Grandview Parkway. $24 million was previously earmarked for this phase of the roadwork. Proposed Phase III focused on the construction of a half-mile long flyover ramp from Interstate 459 north to U.S. 280 west.1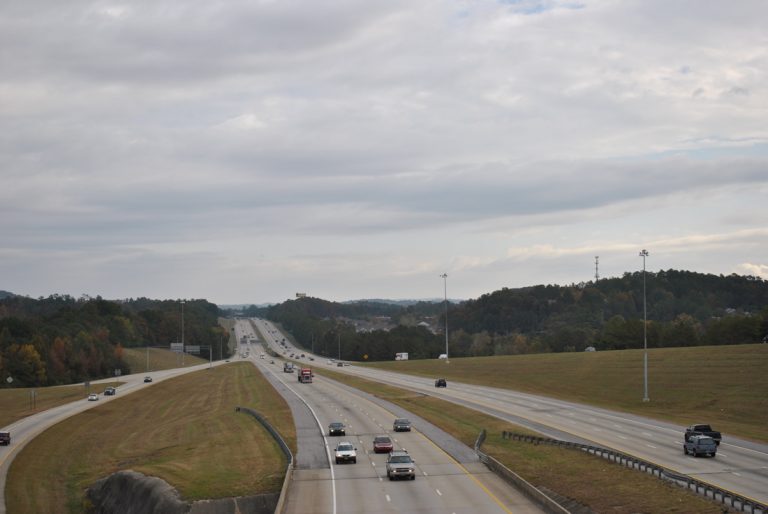 Northern Beltine (Interstate 422)
The Birmingham Northern Beltine (proposed Interstate 422) is slated to run from the south end of Interstate 459 northeast to Future Interstate 22 (between Exits 87 and 89) and Interstate 65 (north of Exit 272) and east to Interstate 59 (south of Exit 148) for a distance of 52 miles. Work on the initial 3.4-mile segment of the North Beltline, between Alabama 79 and 75, was delayed due to environmental concerns.4 Construction finally got started on February 24, 2014 involving a $46-million project to build 1.34-miles of roadway.5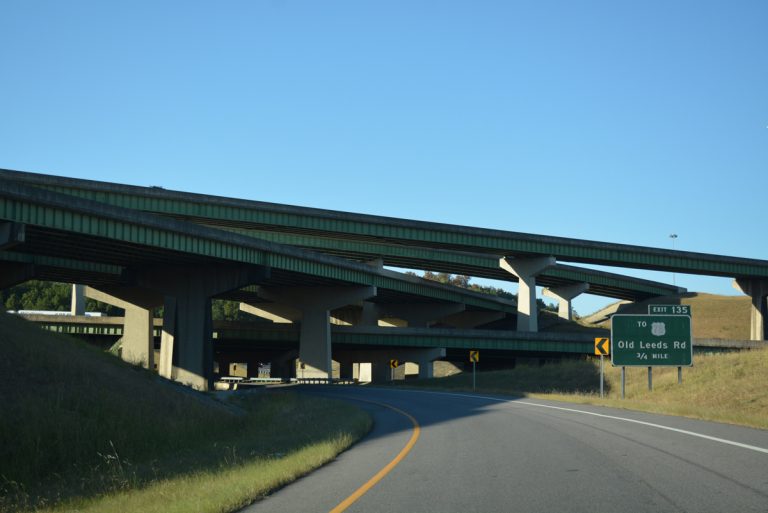 | | |
| --- | --- |
| | Shields posted at the Jefferson County Road 18 on-ramp to I-459 northbound. The formerly rural exchange changed dramatically with area residential and commercial development including the bustling Colonial Promenade Tannehill center. Photo taken 08/10/02. |
| | |
| --- | --- |
| | An older shield that was posted at the 1982 date stamped overpass for CR 18 over Interstate 459. A residential area of 20 or so homes just north of this exchange was replaced with the Colonial Promenade Tannehill. The retail center was mostly completed by 2010. Photo taken 08/10/02. |
| | |
| --- | --- |
| | Looking east from the Jefferson County Road 18 (Eastern Valley Road) overpass at Interstate 459. Much has changed since this photo was taken with development abutting the north side right of way. Photo taken 08/10/02. |
| | |
| --- | --- |
| | Interstate 459 shield and guide sign formerly posted at the southbound entrance ramp from Eastern Valley Road. Traffic lights were eventually added here, coinciding with a major increase in traffic from adjacent Promenade Parkway and residential subdivisions. Photo taken 08/10/02. |
| | |
| --- | --- |
| | Alabama 150 (John Hawkins Parkway) meets Interstate 459 at a diamond interchange between two retail areas in southwest Hoover. Pictured here is the northbound on-ramp. Montgomery is a control point for the connection with I-65 south in five miles. Photo taken 06/25/12. |
| | |
| --- | --- |
| | Grants Mill Road northbound at the diamond interchange (Exit 27) with Interstate 459. Grants Mill Road provides an alternate route for U.S. 280 and the Shelby County suburbs between I-459 and SR 119 (Cahaba Valley Road). Photo taken 08/30/11. |
Sources:
"Nashville firm low bidder." Gadsden Times, January 24, 1981.
"Section of I-459 may be open soon." The Tuscaloosa News, November 28, 1984.
"Alabama Department of Transportation to delay construction of Northern Beltline for in-depth study of route." The Birmingham News, November 15, 2011.
"Northern Beltline construction scheduled to begin Monday." The Birmingham News, February 19, 2014.
Photo Credits:
08/10/02 by AARoads.
08/30/11 by Carter Buchanan.
06/25/12 by AARoads.
Connect with:
Interstate 20
Interstate 59
Interstate 65
U.S. 31
U.S. 280
Page Updated 05-12-2017.