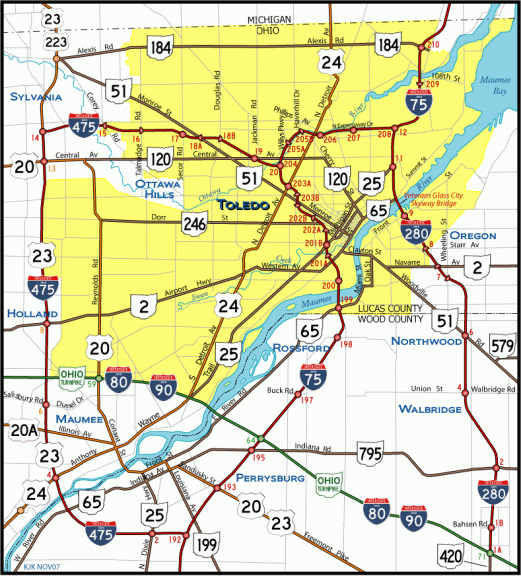 Interstate 475 bypasses Perrysburg and Toledo to the west as part of 20.43 mile loop in Wood and Lucas Counties. U.S. 23 overlaps with I-475 from I-75 at Perrysburg west around the city of Maumee and north toward the city of Sylvania. U.S. 23 extends along a freeway from I-475 to Ann Arbor, Brighton and I-75 near Flint, Michigan.
Interstate 475 Ohio Guides
I-475 turns east from the split with U.S. 23 between the village of Ottawa Hills and Franklin Park in Toledo. The north end of I-475 connects with I-75 northwest of Downtown Toledo by Auburndale and the Old West End neighborhoods.
Part of the overall widening and reconstruction of Interstate 475 between U.S. 24 and U.S. 20/SR 120 (Central Avenue), a $46.7 million project underway from November 2019 to November 2021 added a dogbone interchange along I-475/U.S. 23 at Dorr Street in Springfield Township. A ribbon cutting ceremony for the project took place on August 2, 2021.1 Work to build the exchange coincided with expansion of the freeway from four to six lanes between Angola Road and Bancroft Street. Representing a gateway to Springfield Township, obelisks and outside walls on the bridges for I-475 over Dorr Street incorporate decorative stone facades mimicking similar designs on the University of Toledo campus. Officially wayfinding piers, the illuminated obelisks cost $230,000, with funds derived from Springfield Township. Anti-vandalism fences added at the overpasses for SR 2 (Airport Highway) and Bancroft Street include Springfield Township welcome signs. The sign with blue and white lettering at Airport Highway is a tribute to nearby Springfield High School.2
Costing $68.6 million overall, previous work along I-475 completed in 2017 converted the folded diamond interchange with U.S. 20/SR 120 (Central Avenue) into a SPUI. This construction coincided with expansion of the freeway between Central Avenue and Bancroft Street. $107 million widening of I-475 from SR 2 (Airport Highway) south to U.S. 24, including the addition of an interchange with U.S. 20A, is anticipated to start in 2022-23.
Sources:
"Dorr Street, I-475 interchange opening for traffic." WNWO TV-24 (Toledo, OH), August 2, 2021
"Springfield Twp.to get shout-out in new freeway signs." Blade, The (Toledo, OH), December 5, 2020.
Connect with:
Interstate 75
U.S. 23
U.S. 24
State Route 51
Page Updated 08-06-2021.