North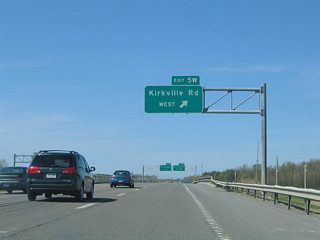 I-481 north within the cloverleaf interchange (Exits 5E/W) at Kirkville Road. Kirkville Road travels west to Exeter Street and NY 635 (Thompson Road) in DeWitt.
05/09/05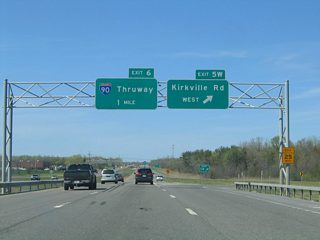 Exit 5W serves residential neighborhoods of Franklin Park and the Thompson Road industrial area via NY 635.
05/09/05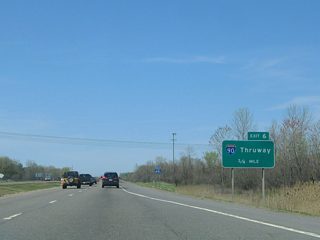 Next in line for Interstate 481 north is the trumpet interchange (Exit 6) for I-90 (New York Thruway).
05/09/05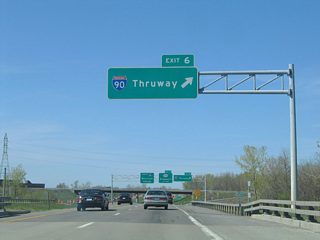 Exit 6 departs I-481 north after the New York Thruway under crossing. Interstate 90 follows the toll road west to Rochester and Buffalo and east to Utica and Albany.
05/09/05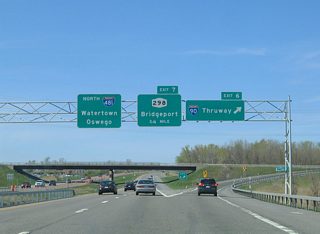 Control cities for I-481 north of the Thruway are Oswego for NY 481 north and Watertown for I-81 north. West of Exit 34A on the Thruway, I-90 next meets NY 298 and NY 635 within the industrial center of DeWitt. The toll road continues 15.1 miles east to Canastota and Oneida.
05/09/05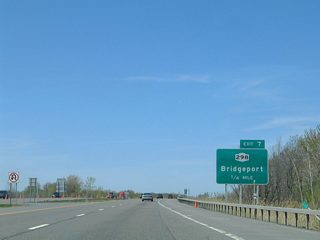 NY 298 travels east from NY 635 (Thompson Road) to Collamer Road and a folded diamond interchange (Exit 7) with Interstate 481.
05/09/05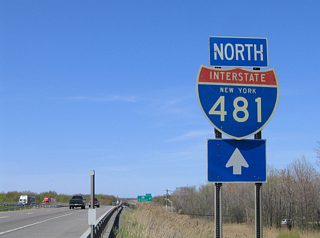 Replaced by 2009, a state named shield for Interstate 481 preceded the NY 298 underpass at Exit 7.
05/09/05
---
Photo Credits:
05/09/05 by AARoads
Connect with:
Interstate 81
Interstate 90 / New York Thruway
Interstate 690
Page Updated 03-10-2020.