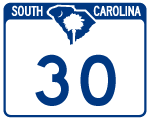 Interstate 526 forms a half beltway encircling Charleston, North Charleston and Mount Pleasant in coastal South Carolina. The freeway provides a bypass for U.S. 17 along a 19.56 mile course. I-526 serves interests to the Port of Charleston, commuters and residents of Daniel Island, Charleston International Airport (CHS) and various military installations including Charleston Air Force Base.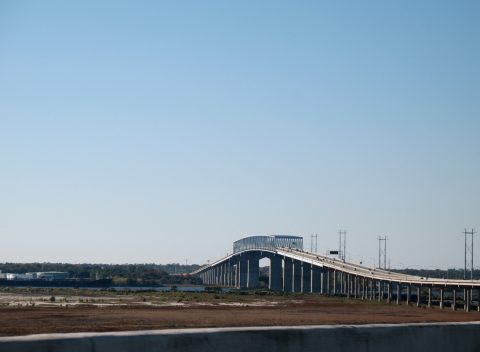 Interstate 526 South Carolina Guides
Also known as the Mark Clark Expressway, Interstate 526 was built in phases around the north side of Charleston. The initial section completed ran north from U.S. 17 north to S.C. 642 (Dorchester Road) in North Charleston. $250 million of ensuing work built interchanges at I-26, Rhett Avenue North and the high level bridges across the Cooper and Wando Rivers. This was scheduled for completion in January 1991.1 It ultimately opened on June 20, 1992.2
Interstate 526 opened up Daniels Island, located between the Cooper and Wando Rivers, to development. Planners outlined up to 10 villages on the 4,500 acre island, with development using 2,100 of them and parks.3
S.C. 30, a 3.05 mile freeway linking Downtown Charleston with James Island, represents the planned southern extent of Interstate 526. The mostly elevated route spans the Ashley River across the Robert B. Scarborough Bridge and ends prematurely as S.C. 171 (Folly Road). Efforts to complete the seven mile gap between the James Island Expressway and I-526 have yet to advance to construction due to funding woes. Robert B. Scarborough, one time Chairman of the Charleston Area Transportation Study Policy Committee, suggested diverting $20 million in funding for the Maybank Highway (S.C. 700) bridge replacement across the Stono River to the estimated $200 million Mark Clark Expressway. Tri-county planners however recommended against diverting money from the bridge project on March 29, 1995, which ultimately moved forward with construction of a 55-foot high fixed span along S.C. 700.4
Costing $125 million, the James Island Expressway and Robert B. Scarborough Bridge opened to traffic in September 1993. However the north entrance ramp to S.C. 30 remained closed until September 1, 1995. A separate $13.8 million project finished the ramp project, which included realigning Spring and Cannon Streets (U.S. 17) at Lockwood Drive. Permitting delays pushed construction back over a year from its scheduled start in 1993.5
The Herbert U. Fielding Connector and the trumpet interchange joining the south end of S.C. 61 with S.C. 30 (James Island Expressway) opened to traffic following a ceremony held along the west side of the Ashley River on February 24, 1996. The $21.4 million roadway provides an alternate to both U.S. 17 across the Ashley River and S.C. 171 (Folly Road) south. The connector was first proposed in 1972.6
With cost estimates soaring to $720 million by 2018, the Interstate 526 extension was delayed indefinitely. The project stalled in 2015 as an agreement for funding between Charleston County, SCDOT, and the state Infrastructure Bank could not be reached.7 Despite the high costs, there remains support for completion of Interstate 526.
| | |
| --- | --- |
| | scenes |
3 photos

3 photos

3 photos

Rhett Avenue south meets Interstate 526 at a folded diamond interchange south of Sumner Avenue in Mt. Pleasant. 05/30/07
2 photos

2 photos

Rhett Avenue crosses over Filbin Creek and below I-526 ahead of the eastbound entrance ramp to Daniel Island and Mount Pleasant. 05/30/07
| | |
| --- | --- |
| | Trailblazers for I-26, I-526 and U.S. 52 direct trucks south from the industrial area along the east side of Virginia Avenue toward the freeway west at Exit 20. 05/30/07 |
| | |
| --- | --- |
| | Virginia Avenue north at I-526 west in North Charleston. 05/30/07 |
3 photos

3 photos

3 photos

Long Point Road west at the six-ramp parclo interchange (Exit 28) with Interstate 526 in Mt. Pleasant. 12/31/17
Sources:
"Charleston Mark Clark Expressway is Key to Future Growth." State, The (Columbia, SC), July 11, 1988.
"North Charleston Withholding Taxes to Spite Chamber." State, The (Columbia, SC), June 15, 1992.
"Developers Read to Cross Bridge to Daniel Island." State, The (Columbia, SC), June 10, 1992.
"John's Is. bridge funds supported." Post and Courier, The (Charleston, SC), March 30, 1995.
"Long-awaited expressway ramp opens up today." Post and Courier, The (Charleston, SC), September 1, 1995.
"Connector opens today Some wonder if mile was worth the cost." Post and Courier, The (Charleston, SC), February 24, 1996.
"Charleston County: only enough money to build half of Johns Island's pitchfork road plan." Post and Courier, The (Charleston, SC), August 25, 2018.
Photo Credits:
05/30/07, 12/31/17 by AARoads
Connect with:
Interstate 26
Business Spur I-526 - Mount Pleasant
U.S. 17
U.S. 78
Highway 61
Page Updated 09-27-2021.