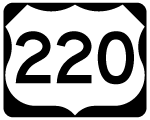 Interstate 581 joins I-81 with Roanoke-Blackburg Regional Airport (ROA) and downtown Roanoke. U.S. 220 follows I-581 along the entire 6.64 mile course between I-81 and Downtown, and is part of future I-73. I-581 was formalized by the American Association of State Highway Officials (AASHO) on November 10, 1958.1
Beginning at a directional T interchange with I-81 near Loch Haven, I-581 proceeds southeast to Roanoke-Blackburg Regional Airport. The freeway travels along the west side of the airport between Exits 2N-S (SR 117) and 3E-W (SR 101). Curving south at U.S. 460 (Orange Avenue), I-581/U.S. 220 lines the east of Downtown Roanoke. I-581 concludes at SR 24 (Elm Avenue) as the freeway continues U.S. 220 southwest toward Cave Spring.
Interstate 581 Guides
Interchange numbers along I-581 ascend from I-81 southward, with Exit 6 (SR 24) being the last along the mainline. Multi-ramp exits along I-581 also use cardinal direction based suffixes.
The Valley View Interchange (Exit 3C) provides direct access to Valley View Mall from I-581/U.S. 220. The wye interchange was added in 1999, and redesigned into a diverging diamond interchange (DDI). Started in Summer 2014, $63.9 million in construction expanded the previous partial interchange into a full access exchange. Work was formally completed with a ribbon cutting ceremony held on November 21, 2016. Associated work also added auxiliary lanes along I-581 from Exit 3C to Hershberger Road (Exits 3E/W).2
Sources:
American Association of State Highway Transportation Officials (AASHTO) Route Numbering Archive, letter to VA Department of Highways, dated November 10, 1958.
http://www.virginiadot.org/projects/salem/valley_view_interchange.asp.
Connect with:
Interstate 81
U.S. 11
U.S. 220
U.S. 221
State Route 101 - Hershberger Road
State Route 116
Page Updated 06-07-2021.