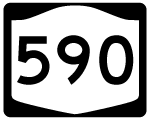 Following the eastern half of the Outer Loop freeway in the Rochester metropolitan area, Interstate 590 joins I-390 with I-490 (East Expressway). The six lane freeway provides a commuter route from the southeastern suburbs to Downtown Rochester via I-490, and a bypass route for Interstate 490 travelers bound for Greater Rochester International Airport (ROC) and I-390 south to Henrietta and Corning.
New York Route 590 extends north from the Can of Worms Interchange joining I-490 and I-590 along the Sea Breeze Expressway as a freeway to NY Route 104 and at-grade boulevard toward the community of Sea Breeze.
Interstate 590 New York Guides
Interstate 590 replaced New York Route 47 along the Southeast Expressway in 1977. The freeway originally traveled the Rochester Outer Loop from west Rochester to Brighton, including the current alignment of I-390. Interstate 390 was to follow the Genesee Expressway north from I-590 to I-490 and the Inner Loop at Downtown Rochester. Community opposition cancelled that project and I-390 was subsequently rerouted over the western half of I-590 to Interstate 490 in west Rochester.
Interstate 590 previously ended at a three-wye interchange with I-490 at Brighton, adjacent to a second three-level exchange joining Interstate 490 with NY 590 (Sea Breeze Expressway). Due to their close proximity, routine congestion and weaving traffic became an increasing problem. Completed in 1991, the Can of Worms project consolidated the separate interchanges by realigning the Outer Loop and Sea Breeze Expressway to meet directly at a new multi level interchange with I-490 (East Expressway).
Construction from April 2011 to October 2012 converted the diamond interchange joining Interstate 590 with Winton Road at Brighton into the first Divering Diamond Interchange (DDI) in New York State. The project cost $5.8 million.1
| | |
| --- | --- |
| | scenes |
| | |
| --- | --- |
| | Winton Road northbound at the entrance ramp for I-590 north to Rochester. Completed in October 2012 to ease travel burdens along the arterial north toward the Brighton village center and the Outer Loop, the exchange here was modified into the state's first Diverging Diamond Interchange (DDI). 05/28/00 |
| | |
| --- | --- |
| | NY 31 (Monroe Avenue) northbound at the parclo interchange with I-590. I-590 north connects with I-490 east nearby while NY 31 continues northwest toward Downtown Rochester 05/28/00 |
Sources:
I-590/Winton Road Interchange Project. https://www.dot.ny.gov/590winton New York State Department of Transportation (NYSDOT), project web site.


Photo Credits:

05/28/00 by AARoads

Connect with:
Interstate 390
Interstate 490

Page Updated 03-11-2020.