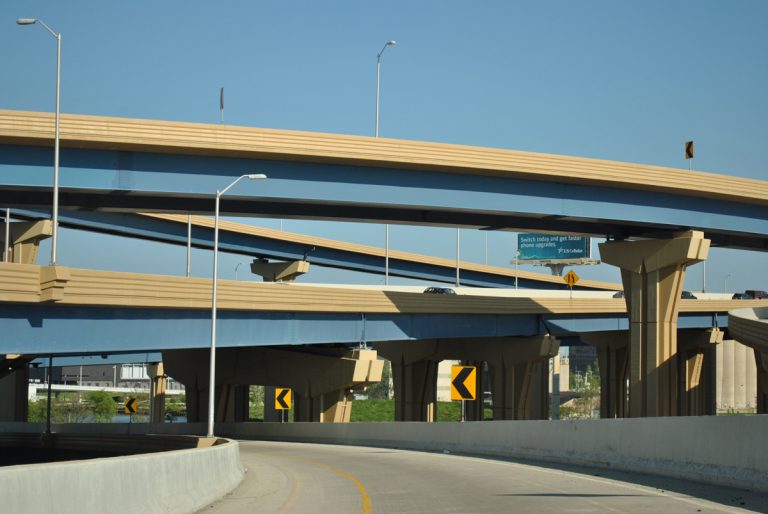 Collectively, STH-794 (Pennsylvania Avenue / Lake Parkway) and Interstate 794 (Lake Freeway / East West Freeway) total 8.88 miles from Cudahy to Downtown Milwaukee. The Interstate portion of the route connects Interstates 43 and 94 with the historic Third Ward, Jones Island and the Port of Milwaukee. Lake Parkway extends the route south as a controlled access expressway to Bay View and the city of Cudahy.
Interstate 794 Wisconsin Guides
The initial section of I-794 consisted of a stub leading east from the Marquette Interchange, where I-94 turns from the East West Freeway to the North South Freeway, to Plankinton Avenue in 1968. The freeway was lengthened slightly to Jackson Street the following year. Work on the extension east to the Lake Interchange, where I-794 turns south, started in 1970. The Lake Freeway would open finally in 1977, but only south from the Third Ward, as the northern extension to the Park Freeway was canceled due to neighborhood opposition.
The Lake Parkway extension of I-794 south opened after eight years of work in 1999 to the intersection of Edgerton and Pennsylvania Avenues. STH-794 runs along Pennsylvania Avenue south presently to CTH-ZZ (College Avenue) on the South Milwaukee city line. Future plans by the Southeastern Wisconsin Regional Planning Commission (SEWRPC) take the parkway south another six miles to STH 100 within the city of Oak Creek. See the Interstate-Guide page for I-794 for a more detailed history of both the freeway and parkway.
The Lakefront Gateway Project, a collaborative effort by the city of Milwaukee and the Wisconsin Department of Transportation, redesigns both the Lake Interchange and area surface streets at the downtown lakefront area. Work affecting I-794 includes the removal of two high speed ramps from the East West Freeway to Lincoln Memorial Drive that frees up 2.66 acres along parallel Clybourn Street for future development. Those ramps were built for the unconstructed Lake Freeway extension north to Lake Park. Additional work extends Lincoln Memorial Drive southward to Chicago Street while rebuilding Clybourn Street as a two-way boulevard.1,2
Design work was completed for the project in August 2015, with construction kicking off as the Hoan Bridge Project wrapped up in December 2015. Interchange renderings show new ramps linking the East West Freeway of I-794 with the extension of Lincoln Memorial Drive.2 The existing north-south ramps will remain.
| | |
| --- | --- |
| | / Wis 794 scenes |
| | |
| --- | --- |
| | A state named trailblazer for I-794 was posted along Milwaukee Street south ahead of Clybourn Street. 2014 reconstruction of the freeway viaduct included a detour for the nearby eastbound on-ramp. A temporary shield replaced this assembly in 2014. Now nothing is posted here. 05/30/11 |
| | |
| --- | --- |
| | Clybourn Street runs along the north side of Interstate 794 and connects Downtown with the Lake Freeway south to St. Francis. 05/30/11 |
| | |
| --- | --- |
| | The shield at Milwaukee and Clybourn Streets was also replaced during 2014 construction of I-794. 05/30/11 |
| | |
| --- | --- |
| | Wis 32 is not acknowledged on guide signs for Exit 1E on the I-794 mainline. Shields for the route do appear at Clybourn and Milwaukee Streets. 05/30/11 |
| | |
| --- | --- |
| | This trailblazer was posted for STH-794 along Oklahoma Avenue east at the UP Railroad and Lake Parkway overpasses. It was removed after 2009. 09/02/05 |
| | |
| --- | --- |
| | Ellen Street intersects Oklahoma Avenue opposite from the ramps linking the Fernwood community with STH-794 (Lake Parkway). 09/02/05 |
| | |
| --- | --- |
| | Separate shields directed motorists onto STH-794 (Lake Parkway) south to St. Francis and north to Jones Island. These were replaced with a unisign by 2015. 09/02/05 |
| | |
| --- | --- |
| | Construction in 2011 added a new acceleration lane for drivers turning southbound onto Lake Parkway from the Oklahoma Avenue on-ramp. This resulted in a continuous green light for southbound motorists along Wis 794. The view here shows the former fully signalized intersection. 09/02/05 |
Sources:
"WisDOT preps for Lake Interchange rebuild in Milwaukee." Milwaukee Business Journal, April 15, 2015.
"Lakefront Gateway plans get public review before late 2015 construction: Slideshow." Milwaukee Business Journal, April 15, 2015.
Photo Credits:
09/02/05, 05/30/11 by AARoads
Connect with:
Interstate 43
Interstate 94
U.S. 18
Page Updated 02-17-2016.