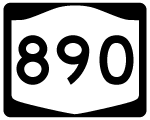 Interstate 890 is an urban loop connecting the New York Thruway (I-90) with the city of Schenectady. The 8.80 mile long route heads north from the Thruway at Exit 25 in the town of Guilderland. NY 7 combines with the freeway just ahead of the Schenectady County and Rotterdam town lines. The two overlap to Chrisler Avenue (Route 915M) and the Crosstown Connector, a controlled access arterial taking NY 7 east across south Schenectady. I-890 proceeds northwest from there to Downtown Schenectady and west along the Mohawk River back into Rotterdam. I-890 returns to Interstate 90 at Exit 26.
Interstate 890 New York Guides
New York Route 890 spurs north from the exchange joining I-890 with NY 5S (River Road) and the New York Thruway in Rotterdam. The 1.10 mile long state route crosses the Mohawk River, connecting the freeway with NY 5 (Amsterdam Road) and CR 30 (Vley Road) west of Scotia.
Interstate 890 was originally developed to connect the New York Thruway with the General Electric Plant and Downtown Schenectady along a loop southeast into Rotterdam. Plans in the early 1970s outlined an extension of the route northward to NY 50 and Middle Line Road within the town of Ballston. The bridges spanning the Mohawk River from the north end of I-890 were built for this alignment, but sat unused until 1998 when NY 890 was completed to NY 5.1
Sources:
Capital Highways - Interstate 890. http://www.capitalhighways.8m.com/highways/890i/
Connect with:
Interstate 90 / New York Thruway
Page Updated 03-09-2020.