H-3 is Hawaii's most beautiful and controversial freeway. Covering 16.1 miles from the Halawa Interchange north to Kaneohe MCAS, the freeway opened in 1997, 25 years after the initial construction on the North Shore and 37 years after the route was first proposed.
Interstate H3 Guides
As part of statehood, a network of interstate highways was proposed for Hawaii. H-3 was designed to run from Pearl Harbor to Kaneohe MCAS, to serve troop and equipment movements across the island.
Due to priorities being H-1 and H-2, H-3 started incurring delays. H-3 was the first project in Hawaii to require an environmental impact statement, and the selected route, through Moanalua Valley, ran into intense community opposition. North shore residents were opposed to H-3, as they didn't want their side of the island to become as urbanized as Honolulu.
Construction began by 1972 between the Pali Golf Course and MCAS Kaneohe on the North Shore, and on the Halawa interchange. The remaining section between Halawa and the Pali golf course was tied up in litigation, with the planned route still traversing Moanalua Valley.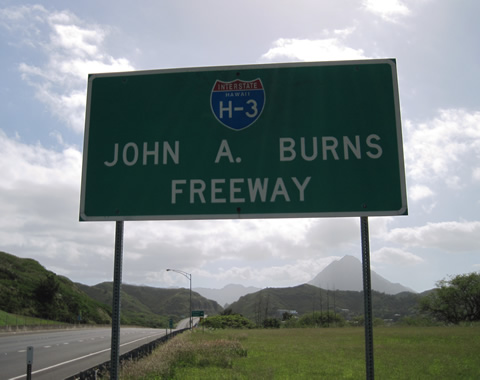 The following is a timeline on litigation and delays in H-3 construction:
1977. After litigation and declaration of Moanalua Valley as a historic landmark, H-3 was rerouted through North Halawa Valley.
1980. EIS approved for the North Halawa Valley route.
1981. The court order stopping construction through Moanalua Valley was found to cover North Halawa Valley as well. Final approval on the route gained from Federal Highway Administration.
1982. Second supplemental EIS required as condtion of dissolving previous injunction stopping construction.
1983. Halekou interchange (Kamehameha Highway) construction started.
1984. On appeal, the injunction halting construction was reinstated.
1986. An exemption to federal law was signed allowing construction to resume.
1987. All injunctions were lifted and construction resumed on the Halekou interchange. Third supplemental EIS approved.
1997. Freeway completed and opened on December 12.
As research and construction began on H-3 through Halawa Valley, several native Hawaiian burial sites were destroyed. Opposition through the late 1970s up to the present time to H-3 centers around these native Hawaiian spiritual sites. Ironically, it is believed that the Moanalua Valley route today would have had the least impact on native Hawaiian cultural sites.
H-3 is named for former governor John A. Burns. The Tetsuo Harano tunnels are named for retired Hawaii DOT chief Tetsuo Harano, who worked on H-3 during his entire career with Hawaii DOT.
More details on construction:

http://www.hawaii.gov/dot/publicaffairs/h-3/history.pdf - Hawaii DOT
http://starbulletin.com/97/12/03/news/story2.html - Honolulu Star-Bulletin
Connect with:
Interstate H1 / Lunalilo Freeway / Queen Liliuokanai Freeway
Interstate H201 and Route 78
Route 63
Route 83
Page Updated 02-02-2012.