North Carolina Highway 82 runs 15.44 miles north from U.S. 13 near Cooper to U.S. 421/NC 55 in Erwin. Paralleling the South River, NC 82 heads north to the town of Falcon, where it turns westward to Interstate 95. NC 82 continues into the town of Godwin, where it resumes a northward heading into Harnett County.
Entering the town of Erwin, NC 82 follows Iris Bryant Road to NC 217 (S 13th Street). NC 82 overlaps with NC 217, 1.39 miles north through Downtown Erwin to a shared end point with U.S. 421 and NC 55.

East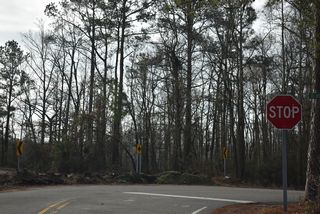 NC 82 makes an abrupt turn onto Herb Farm Road, the former alignment of U.S. 13 west from the South River.
01/18/19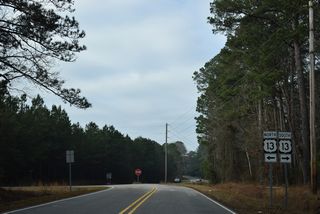 U.S. 13 travels 7.32 miles west to the exchange joining I-95 with the Fayetteville Outer Loop (NC 295).
01/18/19

West
Photo Credits:
01/18/19 by AARoads
Connect with:
Interstate 95
U.S. 13
Page Updated 08-05-2020.