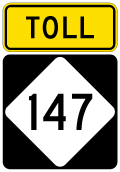 North Carolina Highway 147 is a 16.08 mile route along the Triangle Expressway (TriEx) through Research Triangle Park (RTP) and the Durham Freeway, an urban loop to Downtown Durham.
Construction on NC 147 commenced in 1968 with the first segment opened to traffic between Alston Avenue (NC 55) and Chapel Hill Street (SR 1127) in 1970. Extension built in the 1970s followed west to Erwin Road (SR 1320) and east to Interstate 40 through RTP.
Road planning techniques in the 1960s would not be used in 1982 to develop the corridor northwest to Interstate 85 through the Crest Street neighborhood. Instead of relocating residents and razing properties, 181 houses were relocated to new foundations in the area, allowing residents to stay in the Crest Street community. This allowed work on the freeway to proceed with minimal disruptions to the area community. The Durham Freeway was completed to Interstate 85 on July 31, 1998.1,2
The NC 147 section of the TriEx opened to traffic on December 8, 2011.3 The toll road extends 3.11 miles south from I-40 to NC 540 (Western Wake Expressway) near Morrisville. The TriEx continues south from the end of NC 147 along NC 540 to Cary, Apex and Holly Springs.
The East End Connector will join NC 147 along the Durham Freeway with U.S. 70 along S Miami Boulevard in Durham. A $142 million project started in February 2015, the East End Connector consists of both a new freeway linking NC 147 with U.S. 70 and upgrades along U.S. 70 north from the freeway to Interstate 85. Upon completion in November 2020, it will be established as Interstate 885. I-885 will also overlay NC 147 southward to the TriEx, completing the loop between I-85 and I-40.
| | |
| --- | --- |
| | North |
| | |
| --- | --- |
| | NC 147 (Durham Freeway) meets Cornwallis Road (SR 1121) at a folded diamond interchange (Exit 6). Photo taken 01/17/19. |
| | |
| --- | --- |
| | Construction underway from February 2015 to November 2020 upgrades the Durham Freeway north to the East End Connector. Photo taken 01/17/19. |
| | |
| --- | --- |
| | The East End Connector (I-885) is partly a 1.25 mile long freeway linking NC 147 with U.S. 70. Construction of the connector also involves upgrading 2.75 miles of U.S. 70 north to I-85. Photo taken 01/17/19. |
| | |
| --- | --- |
| | The two wye interchange with the East End Connector (Left Exit 9) represents the future separation of NC 147 west from Interstate 885 north. Photo taken 01/17/19. |
| | |
| --- | --- |
| | A compact cloverleaf interchange (Exit 16) joins NC 147 (Durham Freeway) with the freeway along U.S. 15/501 northwest of Downtown Durham. Photo taken 12/15/16. |