North Carolina Highway 222 forms a 57.84 mile long arc from NC 231 in northern Johnston County to NC 33 at Belvoir, northwest of Greenville. The state route connects Kenly, Fremont west of NC 111. NC 222 combines with NC 111 for 13.38 miles northeast through Eureka, Stantonsburg and Saratoga. The eastern leg of NC 222 runs through the towns of Fountain and Falkland.

East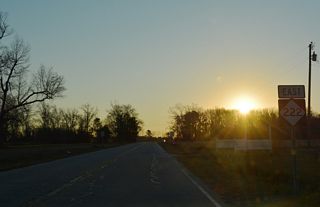 Crumpler Road (SR 2345) links NC 222 with Piney Grove Church Road (SR 2385) to the south ahead of this shield.
12/14/17
Photo Credits:
12/14/17 by AARoads
Connect with:
Interstate 795
U.S. 301
Highway 581
Page Updated 08-04-2020.