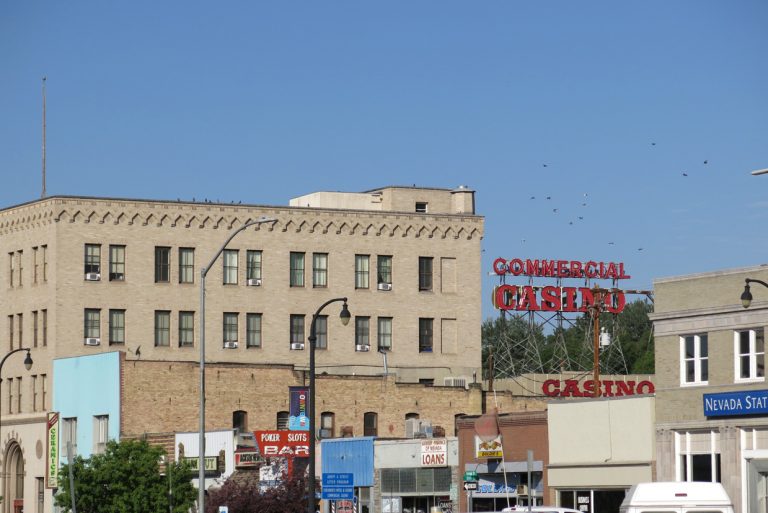 Nevada 227 ventures 20.12 miles south from Business Loop I-80 & Nevada 535 (Idaho Street) in Elko to Crossroad Lane at the community of Lamoille. The state route follows 5th Street east from Downtown Elko, spanning the Humboldt River through the east side of the Elko County seat. Transitioning to Lamoille Highway, Nevada 227 makes a sweeping curve southward to Northeastern Nevada Regional Hospital on the climb to Elko Summit across the Elko Hills.
Turning more easterly, Nevada 227 continues from the Elko Hills to intersect the north end of Nevada 228 (Juggs Road), a 27 mile long highway south to Jiggs. Lamoille Highway progresses east from there to the Spring Creek bedroom community of Elko, and agricultural areas in Lamoille Valley.
| | |
| --- | --- |
| | SR 227 (5th Street) ends at Business Loop I-80 (Idaho Street) in the heart of Downtown Elko. Business Loop I-80 overlaps with SR 535 for 0.79 miles west to link with SR 225 (Mountain City Highway) north. 08/05/13 |
| | |
| --- | --- |
| | 5th Street extends northwest from the ending SR 227 as a three-lane boulevard to Spruce Road on the north side of I-80. The Elko County Courthouse resides on the block of Idaho Street between 5th and 6th Streets. 08/05/13 |



Photo Credits:

08/05/13 by AARoads

Connect with:
Business Loop I-80 - Elko

Page Updated 07-26-2018.