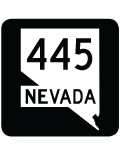 Nevada 445 extends 41.89 miles north from Nugget Avenue, a south side frontage road for I-80 in Sparks, to Warrior Point Park Road along Pyramid Lake. Pyramid Way leads the route north as a varying four to five-lane boulevard from the SPUI with Interstate 80 to Spanish Springs Valley. Expanding into a four-lane arterial, Pyramid Way advances north to a heavily developed retail area at Sparks Crossing, Sparks Galleria. Suburban development spreads north along the state route for 12.7 miles to the Pebble Creek subdivision and Descanso Lane in Spanish Springs.
Heading north from Spanish Springs, SR 447 becomes rural and passes between Hungry Ridge and the Pah Pah Range. Following Pyramid Highway, SR 447 lowers into the Warm Springs Valley near agricultural areas before turning northeast through Mullen Pass to the Virginia Mountains and Pyramid Lake. The northern extent of Pyramid Highway follows the west shore of the lake to the settlement of Sutcliffe and Wood Canyon. Surprise Valley Road continues the road north as an unpaved road toward the railroad siding of Zenoblia and Smoke Creek Desert.
Unconstructed Pyramid Expressway
A recommendation by the Regional Transportation Commission (RTC) in 2000 favored a new six-lane expressway along Pyramid Highway (SR 445) north from McCarran Boulevard (SR 659) to a point just south of La Posada Drive in Spanish Springs. Proposed to alleviate congestion projected over a 30 year period, the $290 to $354 million controlled access highway (Option B) would also incorporate a portion of a new outer ring road. The Pyramid Expressway would have intersections or interchanges at Pace Boulevard, Sparks Boulevard, Los Altos Parkway and the outer ring road. The outer ring road was proposed to run west to U.S. 395 near Panther Valley and east to Sparks Boulevard.1 Neither expressway was constructed.
| | |
| --- | --- |
| | SR 445 (Pyramid Way) stems north from Nugget Avenue in Sparks near the Nugget Hotel and Casino. The state route enters the SPUI with Interstate 80 to the immediate north, where traffic joins I-80 east to Elko and Salt Lake City. 07/23/09 |
| | |
| --- | --- |
| | Two lanes follow from SR 445 (Pyramid Way) north for Interstate 80 west into Reno. 07/23/09 |
| | |
| --- | --- |
| | The single point urban interchange with I-80 replaced a half diamond interchange joining the freeway eastbound with Pyramid Way. 07/23/09 |
| | |
| --- | --- |
| | Long since replaced, this distance sign directed motorists along SR 445 (Pyramid Lake Road) north at the west end of SR 446 (Sutcliffe Highway). A 13.16 mile route, SR 446 connects with SR 447 north at Nixon for the distant communities of Empire and Gerlach. October 1993 |
| | |
| --- | --- |
| | SR 445 (Pyramid Way) enters a single point interchange with Interstate 80 just after intersecting Business Loop I-80 (Victorian Way) near Victorian Square in Sparks. 07/19/09 |
| | |
| --- | --- |
| | Interstate 80 parallels a Union Pacific Railroad line west from Sparks toward the north side of Downtown Reno. SR 445 passes below the freeway and ends at forthcoming Nugget Avenue. 07/19/09 |
Sources:
"Transportation staff favors new 6-lane Pyramid freeway." Reno Gazette-Journal, August 18th, 2000.
Photo Credits:
October 1993 by Jim Magin.
07/19/09 by AARoads.
07/23/09 by AARoads.
Connect with:
Interstate 80
State Route 659 - McCarran Boulevard
Page Updated 07-18-2017.