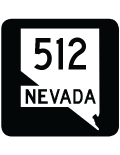 Nevada 512 once followed a number of west Carson City streets on a 2.282 mile path from Kings Canyon Creek, connecting the state capital with nearby Kings Canyon Waterfalls site. The state route was turned over to local control by January 2010.1
Beginning at Kings Canyon Creek, SR 512 traveled along a 1.38-mile section of Kings Canyon Road easterly to the limits of Carson City and former SR 516 (West Ormsby Boulevard). West King Street continued the state route east 0.59 miles to South Division Street where it stair-stepped four blocks south to West 5th Street. SR 512 then followed West 5th Street 0.14 miles east to its end at South Carson Street (former U.S. 395 Business).
Historically Nevada 512 along West King Street and Kings Canyon Road represented a portion of the Lincoln Highway and dates back to the mid-1800s.2
| | |
| --- | --- |
| | West King Street (former SR 512) approaches Thompson Street as the local road travels a linear course through several city blocks within Carson City. 07/19/09 |
| | |
| --- | --- |
| | Thompson Street stems south from West King Street through residential neighborhoods of the capital city. 07/19/09 |
| | |
| --- | --- |
| | Three blocks west of the state capital complex, former SR 512 (West King Street) turned south along Division Street for a four city block run to West 5th Street. 07/19/09 |
| | |
| --- | --- |
| | West 5th Street previously carried SR 512 east from Division Street three blocks to an end at Carson Street. 07/19/09 |
Historic end of SR 512 east at Carson Street in downtown. Carson Street represents the former alignment of U.S. 395 prior to the opening of the Carson City Bypass (I-580).
SR 513 previously continued east from this intersection on a 2.2-mile path to Fairview Drive. The state route was removed by 2011. 07/19/09
Sources:
State Maintained Highways of Nevada Descriptions and Maps - January 2010, Nevada Department of Transportation
Nevada State Route 512, Wikipedia


Photo Credits:

07/19/09 by AARoads

Page Updated 07-02-2018.