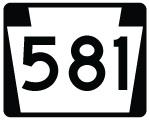 Designated the American Ex-POW Memorial Highway, Pennsylvania Route 581 is a freeway loop west from Interstate 83 at Lemoyne and New Cumberland to I-81 in Hampden township. PA 581 constitutes the southwest leg of the Capital Beltway encircling Harrisburg. Forming an ellipse within the Harrisburg metropolitan area, the Capital Beltway also overlays I-81 east from PA 581 to I-83 in Lower Paxton township and I-83 south to Swatara township and west across Harrisburg.
PA 581 along the Harrisburg Expressway is one of a few state route freeways in the Commonwealth of Pennsylvania with numbered exits. Exit numbers are signed sequentially.
The Harrisburg Expressway was reconstructed in the mid to late 1990s. Originally built in the 1960s, road work upgraded the substandard expressway into a modern freeway with a barrier median, full shoulders and sound barriers.
Photo Credits:
07/01/00, 10/08/01, 06/24/12 by AARoads
Connect with:
Interstate 81
Interstate 83
U.S. 15
Page Updated 01-03-2021.