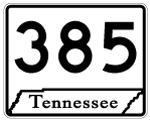 Tennessee 385 forms a 48.9-mile freeway encircling the east side of the Memphis metropolitan area. The state route travels along three distinct routes. The Bill Morris Parkway portion, named Nonconnah Parkway for the creek which it parallels until 1997, takes the route east from I-240 to I-269 near the Mississippi state line. This freeway serves the Bal-Moral and Hickory Hill neighborhoods in southeast Memphis and the suburbs of Germantown, Southwind and Collierville. Bill Morris Parkway opened in stages from west to east between December 1993 and November 2000.
Governor Winfield Dunn Parkway runs north from Bill Morris Parkway at Collierville to Interstate 40 and the town of Arlington. Presently a rural route, the four-lane freeway circles around the east side of Collierville ahead of the Wolf River. 3,200 foot long bridges span wetland areas associated with the Wolf River as SR 385 arcs west alongside SR 205. Environmental impact mitigation delayed this stretch of freeway to a November 2013 completion date. The remainder of the route north opened between SR 193 and I-40 in 2007 and 2009 respectively.
A full cloverleaf interchange joins Interstate 40 with Tennessee 385 at the fast growing suburb of Arlington. Paul W. Barret Parkway begins there and takes SR 385 as an east-west signed route across an agricultural swath of northern Shelby County. The 14.3-mile long freeway opened between U.S. 51 and U.S. 70 in September 1998 and was completed to I-40 in December 1999.
Tennessee State Route 385 Guides
East - Memphis to Collierville
Connect with:
Interstate 40
Interstate 240

Page Updated 06-04-2016.