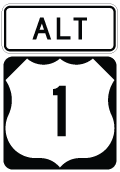 U.S. 1 Alternate forms a 7.5 mile long loop encircling central Jacksonville. The route travels Martin Luther King, Jr. Parkway from Brentwood southeast to Midtown, the Hart Bridge spanning the St. Johns River south to Empire Point, and Emerson Expressway / Street leading west to Spring Park and Englewood. The majority of the route travels along limited access highways developed by the Jacksonville Expressway Authority.
U.S. 1 Alt Guides
State Road 115 represents the hidden component of U.S. 1 Alternate north from the Hart Bridge Expressway to U.S. 1 (Main Street). SR 115 follows MLK, Jr. Parkway west to I-95 north as part of its through route between Lem Turner Road to the north and the Arlington Expressway to the south. State Road 115A, at 1.254 miles in length, links the SR 115 segment of MLK, Jr. Parkway with the SR 228 section of U.S. 1 Alt across the Hart Bridge. The 0.516 mile long Emerson Expressway is unsigned SR 228A and the 1.289 stretch of Emerson Street is cosigned as SR 126.
20th Street Expressway / Haines Street Expressway
Collectively renamed as Martin Luther King, Jr. Parkway in 2000, the two U.S. 1 Alternate freeways encircling central Jacksonville were both developed as part of the 1947 Jacksonville Expressway plan. That plan called for eighteen miles of limited access highways, fourteen miles of arterial routes and new bridges across the St. Johns and Trout Rivers. The Mathews Bridge and Arlington Expressway opened in 1954 as initial projects in the plan. Connecting them from the north was the Haines Street Expressway, which was constructed along Haines Street between the Mathews Bridge west end by the Gator Bowl and 20th Street at Longbranch. The 20th Street Expressway turned the freeway 90 degrees west over 20th Street to the Brentwood and New Springfield communities. Both roadways opened to traffic between 1961 and 1962.1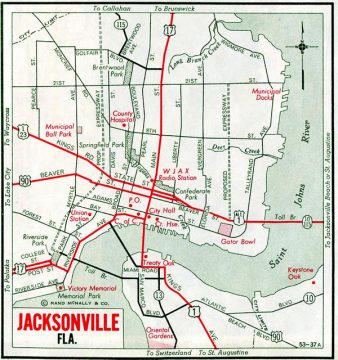 Today Martin Luther King, Jr. Parkway takes U.S. 1 east from New Kings Road (U.S. 23) to Interstate 95 and Main Street (U.S. 17). There U.S. 1 turns south through Springfield as U.S. 1 Alternate begins. The bannered route continues east to Longbranch and Phoenix, where MLK Parkway turns southward through East Jacksonville to end at TIAA Bank Field (home of the Jacksonville Jaguars), site of the former Gator Bowl stadium.
Service roads and a series of slip ramps were built to connect the densely populated neighborhoods along the 20th Street Expressway. A Florida Department of Transportation proposal in 2012 called for the removal of slips ramps both west and east of Main Street (U.S. 17) to address weaving traffic patterns. Ramps joining MLK, Jr. Parkway eastbound from Pearl Street and to Liberty Street and westbound ramps from Liberty Street and to Pearl Street were to be removed as part of a $7.5 million concrete and resurfacing project for Summer 2013.1 The freeway was eventually resurfaced, but the ramps remained open.
The narrow freeway made a 90 degree turn at Haines Street, where it turned due south with a series of service roads to the industrial East Jacksonville area. Totaling $43.6 million in property acquisition, design and construction, a project started in November 2011 redesigned the U.S. 1 Alternate turn at 21st and Haines Streets. Work realigned the freeway mainline further southwest to smooth out the curve. Crews also built new ramps to and from 21st Street to better serve Talleyrand Avenue and the Jacksonville Port Authority facilities along the St. Johns River.2
The 21st Street Interchange project was completed in May 2014. It was awarded the DBIA Florida Region Design-Build Honor Award in November 2014.
Isaiah D. Hart Bridge
The Hart Bridge Expressway connects MLK, Jr. Parkway with the Isaiah D. Hart Bridge linking Downtown and Midtown with Empire Point and St. Nicholas to the southeast. Tolled until 1989, the bridge carries both U.S. 1 Alternate and SR 228, though the state road is unsigned.
A continuous steel through truss bridge, the Hart Bridge was constructed as part of the Commodore Point Expressway system of freeways. Work on the expressway network and high level bridge started in 1964. The signature component of the system was named after the founder of Jacksonville, Isaiah D. Hart.3
The Hart Bridge opened on November 2, 1967. It cost $8.8 million to build, with bonds paid off by tolls.4 The 17-span bridge incorporates a cast in place concrete deck accommodating four lanes of traffic. Totaling 3,844 feet overall, the bridge's 1,093 foot unit over the main navigational channel is the longest highway bridge span in the state.3 It provides 141 feet of vertical clearance to sea going vessels on the St. Johns River.4
U.S. 1 Alternate and SR 228 separate at a wye interchange with Emerson Expressway. SR 228 spurs east along the Commodore Point Expressway to U.S. 90 (Beach Boulevard) as an older through route to the Jacksonville Beaches. U.S. 1 Alternate meanwhile turns southwest alongside SR 126 to an interchange with U.S. 90 (Beach Boulevard). Both freeways were completed in 1967.3
Emerson Expressway transitions into an arterial (Emerson Street) west from U.S. 90 between the Spring Park and Englewood communities. U.S. 1 Alternate crosses paths with Interstate 95 just east of the end at U.S. 1 (Philips Highway).
Former Alignment
Prior to the completion of the 20th Street and Haines Street Expressways, U.S. 1 Alternate combined with U.S. 90 Alternate along Arlington Expressway and the Mathews Bridge between Midtown and Southside Boulevard. Southside Boulevard then took U.S. 1 Alternate south back to U.S. 1 near Greenland.
Sources:
"Change Coming To MLK Parkway?" Metro Jacksonville, November 7, 2012.
"Work begins on new interchange at Martin Luther King, Jr. Parkway and 21st Street." Jacksonville Port Authority, news release. February 15, 2012.
Historic Highway Bridges of Florida. http://www.dot.state.fl.us/emo/ pubs/Historic Highway Bridges of Florida 2010 Update.pdf Sarasota: FDOT, 2012. Print.
"Call Box: Hart Bridge has a distinctive history and a heady aroma." Florida Times Union (Jacksonville, FL), June 28, 2013.
Connect with:
Interstate 95
U.S. 1
U.S. 17
U.S. 90
State Road 10A
State Road 115
State Road 228 / County Road 228
Page Updated 12-07-2020.