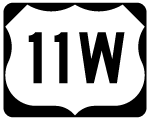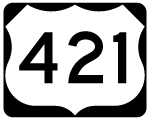 | | |
| --- | --- |
| | South North |
| | |
| --- | --- |
| | The first southbound shield of U.S. 11W on Euclid Avenue with U.S. 421 northbound. In the background is the Bob Morrison Boulevard signalized intersection. Nine blocks to the west U.S. 11W southbound splits with U.S. 421 northbound via the Gate City Highway. Photo taken 08/24/03. |
| | |
| --- | --- |
| | North South |
| | |
| --- | --- |
| | U.S. 11W & 421 (Euclid Avenue) prepare to meet U.S. 11-11E-19 at Commonwealth Avenue. An end shield for U.S. 11W resides at the Euclid Avenue intersection with Bob Morrison Boulevard. Bob Morrison Boulevard constitutes an industrial arterial route joining U.S. 11W & 421 with State Street. Photo taken 05/31/07. |
| | |
| --- | --- |
| | U.S. 11W north & U.S. 421 south combine at the Tennessee state line where Gate City Highway and Euclid Avenue intersect. U.S. 421 enters the multiplex from east of Interstate 81 Exit 1 and U.S. 58. U.S. 11W merges with U.S. 11E from Commonwealth Avenue ahead to reform the primary U.S. 11 northbound along Euclid Avenue. U.S. 11 north overlaps with U.S. 19 from Bristol to the city of Abington (pop. 7,780). Photo taken 08/24/03. |
| | |
| --- | --- |
| | The sign assembly pictured above was completely removed by 2007 along with this extra set of traffic lights posted in front of the railroad line parallel to Commonwealth Avenue. Photo taken 05/31/07. |
2 photos

2 photos

What was most likely an original sign bridge, and its replacement, posted for Interstate 381 (Commonwealth Avenue northbound) at the intersection with Virginia 381 north. Interstate 381 begins a short distance to the left as a 1.67 mile freeway spur between Commonwealth Avenue (unsigned Virginia 381) and Interstate 81. To the right U.S. 11E southbound begins along Commonwealth Avenue, joining U.S. 19 & 421 southbound to Goode Street and Bristol, Tennessee. A truck route for U.S. 11 & 19 also joins Commonwealth Avenue southbound as a bypass route for Euclid Avenue between here and Moore Street. Photo taken 08/24/03. Second photo taken 05/31/07.
2 photos

2 photos

The north end of U.S. 11W at Commonwealth Avenue. U.S. 421 follows Commonwealth Avenue south with U.S. 11-19 Truck to Goode Street east. Eventually the route meets Martin Luther King, Jr. Boulevard, where the truck route splits to the north and U.S. 421 heads south into Bristol, Tennessee.
SR 381 once traveled south all the way to the Tennessee state line along Commonwealth Avenue. All shields for the state route were taken down by 2007, including the entire assembly pictured in 2003. Photo taken 08/24/03. Second photo taken 05/31/07.
Photo Credits:
08/24/03 by AARoads and Justin Cozart. 05/31/07 by AARoads and Carter Buchanan.
Connect with:
U.S. 421
U.S. 11
U.S. 11E
U.S. 19
Interstate 381 & State Route 381
Page Updated 03-25-2010.