U.S. 17 runs through coastal southeast Georgia and the Golden Isles region through Brunswick and Savannah. Co-signed with Georgia 25 north from the Florida state line to Savannah, the U.S. highway generally serves local traffic as it parallels I-95.
U.S. 17 Georgia Guides
U.S. 17 stays west of I-95 from Kingsland to Woodbine before looping east to Brunswick. North through Darien, the route doubled as Business Loop I-95 originally, but that route is no longer marked. Shifting west of Interstate 95 again, U.S. 17 heads to Midway, connecting with U.S. 84 to Hinesville. U.S. 17 and I-95 converge again at Richmond Hill in Bryan County.
Through Savannah U.S. 17 follows Ogeechee Road from the south side suburbs to Interstate 516 and U.S. 80 (W.F. Lynes Parkway). The route was relocated to use I-516 as part of a bypass around Savannah by AASHTO on December 7, 1984. The change also affected U.S. 17 Alternate, which was realigned over SR 25 Alternate to I-516.
Sidney Lanier Bridge
Supported by twin 480 feet towers, the Sidney Lanier Bridge carrying U.S. 17 over the Brunswick River is Georgia's tallest span. Providing a higher vertical clearance for the nearby Port of Brunswick, the cable-stayed bridge replaced an ailing draw bridge by the same name -- Georgia state law indicated that "all bridge replacements must keep the name of the original bridge." The bridge's 1,250 foot long main span provides a 203.295 feet vertical clearance above sea level. Accommodating four overall lanes, the Sidney Lanier Bridge is 7,780 feet in length. The bridge deck is 73 feet 9 inches wide, with 12 foot travel lanes, eight foot outside shoulders and two foot inside shoulders.1
The previous Sidney Lanier Bridge across the Brunswick River was 139 feet high and 250 feet wide. Opened in 1956, the vertical lift bridge was mired with problems. These included mechanical failure, resulting in routine closures and lengthy detours for Brunswick bound traffic. Delays were frequent during shrimping season, with dozens of bridge lifts per day accommodating shrimping vessels, pleasure boats, and other ships.2
Additionally, the original Sidney Lanier Bridge was the site of a catastrophic boating accident in 1972 when the African Neptune struck the bridge. With several of the bridge segments compromised, the incident resulted in 10 deaths. Another major collision took place on May 3, 1987 when the Polish freighter Zeimia Bialostocka collided with a support tower. The Sidney Lanier Bridge was subsequently closed for repairs over a several month period.2
The former lift bridge remained in operation until March 23, 2003, when it closed to make way for the final construction work on the new cable-stayed bridge nearby.2 Demolition of the old span cost $21 million.3.
Eugene Talmadge Bridge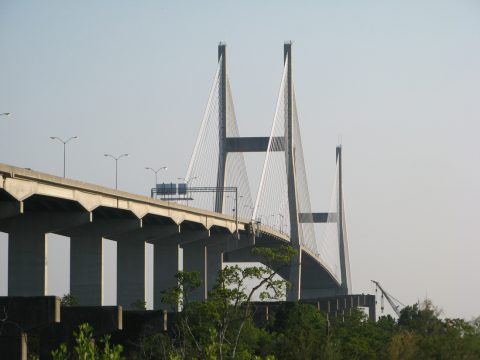 U.S. 17 spans the Savannah River between Savannah and Hutchinson Island along the Eugene Talmadge Bridge. The second of two cable-stayed bridges, the Talmadge Bridge provides a high-speed route from Interstate 16 and Downtown Savannah to Hutchinson Island and Jasper County, South Carolina.
Originally a two-lane cantilever bridge spanned the Savannah River between Savannah and Hutchinson Island. The bridge was also named after Eugene Talmadge, Governor of Georgia from 1933 to 1937 and again from 1941 to 1943. It opened to traffic in September 1954 after 18 months of construction at a cost of $12.5 million. Tolls collected by the Coastal Highway District until October 13, 1975 paid for the 136 foot high bridge. That bridge fee mandated that the U.S. 17 mainline remain northwest of the city to Port Wentworth and the toll-free Houlihan Bridge.6 U.S. 17 eventually was realigned to cross the Talmadge Bridge in 1988. It replaced U.S. 17 Alternate.
With the need to accommodate larger vessels at the Port of Savannah, the prospect of replacing the original Talmadge Bridge grew in importance as commerce increased. Safety concerns also arose as incidents involving large ships colliding with the cantilever span occurred in July of 1983 and again in November of 1990.
The Georgia Department of Transportation (GDOT) sponsored bridge replacement studies in 1981 and by 1987 the first bids were let the new span. Construction commenced in 1988, and the new Talmadge Bridge opened to traffic in March of 1991 at a cost of $70.9 million.6
The Eugene Talmadge Bridge spans the Savannah River at a height of 185 feet above high tide with a horizontal clearance of 1,023 feet. The original bridge was supported by piers anchored in the Savannah River; the towers for the cable-stayed bridge are located on land.6
| | |
| --- | --- |
| | scenes |
| | |
| --- | --- |
| | Trailblazers for Interstates 16 and 95 posted on Savannah Harbor Parkway west at the on-ramp for U.S. 17 & SR 404 Spur south onto the Eugene Talmadge Bridge. U.S. 17 provides a seamless connection to I-16 west ahead of I-516. 05/29/05 |
| | |
| --- | --- |
| | The exchange joining Interstates 16 and 95 lies 10.3 miles to the southwest from Hutchinson Island. 05/29/05 |
| | |
| --- | --- |
| | Looking southward at the Eugene Talmadge Bridge from the ramp to Savannah Harbor Parkway on Hutchinson Island. 05/29/05 |
3 photos

3 photos

3 photos

Original pier supports from the old Talmadge Bridge remain standing along the west side of the cabled-stayed bridge. The predecessor span topped out 49 feet lower than the 1991-completed bridge. 05/29/05
Sources:
The Sidney Lanier Bridge. http://www.dot.state.ga.us/specialsubjects/roadconstruction/sidney/index.shtml Georgia Department of Transportation.
"Way finally to clear on new Sidney Lanier." The Florida Times-Union, April 4, 2003.
"Crucial Cable-Stayed Crossing Set To Open Near Georgia Port." Engineering News-Record, March 31, 2003.
"Bridge piece falls." The Florida Times-Union, June 25, 1999.
"Boost to Brunswick commerce touted as new Sidney Lanier Bridge dedicated." The Florida Times-Union, April 8, 2004.
GDOT - Intermodal Waterways Office - Bridges in Savannah. http://www.dot.state.ga.us/dot/plan-prog/intermodal/Waterways/savannah.shtml Georgia Department of Transportation.
Photo Credits:
05/29/05 by
Connect with:
Interstate 16
Interstate 95
Interstate 516 - W.F. Lynes Parkway
U.S. 25
U.S. 80
U.S. 82
U.S. 84
U.S. 341
State Route 21

Page Updated 04-12-2018.