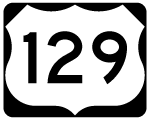 | | |
| --- | --- |
| | North |
| | |
| --- | --- |
| | Motorists along U.S. 19 & 129 north pass by a welcome sign for Cherokee County just north of the Georgia state line at Bellview. Photo taken 07/09/10. |
| | |
| --- | --- |
| | The first set of shields posted for U.S. 19 & 129 (Blairsville Highway) in North Carolina follow. Photo taken 07/09/10. |
| | |
| --- | --- |
| | Approaching U.S. 64/74 along U.S. 19 & 129 (Blairsville Highway) north. U.S. 64/74 enter North Carolina from Ducktown, Tennessee, 16 miles to the west. Photo taken 07/09/10. |
| | |
| --- | --- |
| | U.S. 19 & 129 north combine with U.S. 64/74 east. Photo taken 07/09/10. |
| | |
| --- | --- |
| | U.S. 19-64-74-129 share 5.6 miles of pavement to the county seat of Murphy. Photo taken 07/09/10. |
| | |
| --- | --- |
| | An undeveloped stretch of U.S. 19-129 north & 64-74 east lies west of Fort Butler Mountain in this scene at Caney Creek Road. Much of the four-way overlap otherwise is lined with industrial businesses and retail. Photo taken 07/09/10. |
| | |
| --- | --- |
| | Entering the city of Murphy along U.S. 19-64-74-129 east. A number of traveler services occupy the north side of the arterial to Hiawassee Street. Photo taken 07/09/10. |
| | |
| --- | --- |
| | U.S. 19 Business loops through downtown Murphy to the northwest of U.S. 19-74-129, following Hiawassee Street to Valley River Avenue, Hill Street, and Andrews Road along a 3.0-mile course. Photo taken 07/09/10. |
| | |
| --- | --- |
| | The first of five traffic lights along U.S. 19-74-129 through Murphy governs movements at U.S. 19 Business north and Hiawassee Street. Hiawassee Street (SR 1556) meanders south from Murphy to become Martins Creek Road around Wildcat Mountain. Photo taken 07/09/10. |
| | |
| --- | --- |
| | U.S. 64 prepares to part ways with U.S. 19-129 north & 74 east. U.S. 64 follows a southern course from Murphy to Hayesville and Franklin, meeting U.S. 23 & 441 there. U.S. 74 remains with U.S. 19 through Bryson City. The curvature of U.S. 74 is more pronounced than U.S. 64, so truckers bound for Asheville are advised to U.S. 64 east to U.S. 23-441 north to U.S. 74 at Sylva. Photo taken 07/09/10. |
| | |
| --- | --- |
| | |
| | U.S. 19-64-74-129 cross the Hiwassee River ahead of the split with U.S. 64 east at Peachtree Street. Photo taken 07/09/10. |
A 2009 relocation shifted U.S. 64 from a routing directly parallel to the Hiwassee River onto a new alignment to the south. The new routing features smoother curves and a wider right of way.
Peachtree Street ties into the U.S. 64 split from downtown Murphy to the north while U.S. 64 ventures east 16 miles to Hayesville. Photo taken 07/09/10.
---
Photo Credits:
07/09/10 by AARoads and Carter Buchanan
Page Updated 01-29-2013.